The report card for the performance of the Singapore Taekwondo Federation over the last one year indicated that the organisation is doing well and heading in the right direction. It was presented during the Annual General meeting on Saturday 25 July 2009.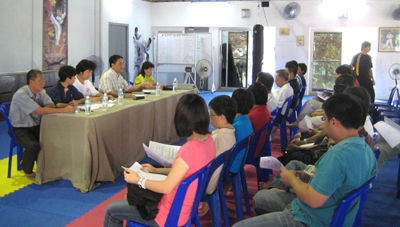 The annual report stated among other things that "it had been another fruitful year under the watch of Mr Milan Kwee, STF President.
"The STF organized 20 courses and workshops, 6 tournaments at national level and 4 quarterly centralized promotion tests. All the activities were well participated. For example, the poomsae workshop held in January 2009 attracted 222 participants, the inter-school competitions held in May 2009 drew a participation of 1,254 students from 66 primary schools, 61 secondary schools and 11 institutions and the 3rd National Poomsae Championships in June 2009 saw 1,032 performers competing for honours.
"The participation figures were impressive. But it is surpassed by the awesome show of support and co-operation by club leaders, coaches and members."
At the meeting, Mr Kwee took the opportunity to highlight the importance of exercising the attitude of "participant first" and observing the rules and regulations of the STF.
Said Mr Kwee: "The safety of the participants should never be compromised. It is the responsibility of clubs to provide a positive and safe training environment for their members."
Mr Kwee went on to inform the meeting that an instructor had breached the rules of the STF. And the appropriate action would be taken against him. He advised members to check with the STF if they were not sure of any of its policies.
It was also revealed the meeting that STF 1st Vice-President Steven Soh would be heading the Dinner and Dance Organizing Committee. The function had been scheduled to be held on 19 June 2010 at Suntec Convention Hall.