"It is out of this world," said Sarah Hayes, a taekwondo exponent from United States of America.
"My sons cannot stop talking about it. The performances were fantastic," said Dicky Bong, a member of the Team gOLD.
"I was awestruck. The demonstrators were amazing." said Janet Ong, the mother of Keith Ong who won a gold medal in the recent Korea Open Taekwondo Championships.
They were all talking about the Taekwondo Spectacular held on 9 November 2008 at Toa Payoh Sports Hall.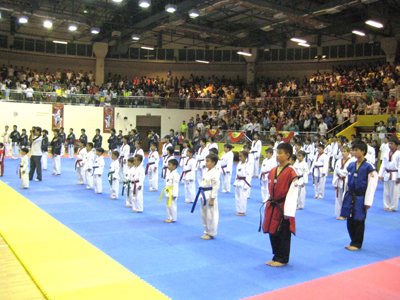 The event was organized by the Singapore Taekwondo Federation (STF) in conjunction with Korea Festival 2008. It was graced by Mr Ng Ser Miang, Executive Board Member of the International Olympic Committee, as the Guest-of-Honour and supported by the Embassy of the Republic of Korea, Korea Taekwondo Association and Liang Seng Sports Equipment.
More than 2,000 spectators including HE Kim JoongKeun (Ambassador, Embassy of the Republic of Korea), Mr Kris Wiluan (President of ASEAN Taekwondo Federation and STF Patron), Dato Dr Sabree Salleh (President of Malaysian Global Taekwondo Federation) and Prof Tan Cheng Han (STF Advisor) cramped the hall in anticipation of a breathtaking show.
They were not disappointed. The sensational flying stunts, surprised moves and perfect synchronized movements drew oohs, aahs and resounding cheers and deafening applause.
The performances by both the Korean and the Singapore national demonstration teams kept some of the spectators talking about it for days. One parent, who missed the demonstration, called the STF to ask why there was only one show. Another enquired when the next demonstration would be organized.
The STF wishes to thank everyone – the VVIPs, VIPs, officials, coaches, taekwondo students and their parents and all other guests who had made the event a tremendous success.