For the benefit of coaches and black belts who missed the Poomsae Coach Refresher Course and the Poomsae Coach Course respectively, the Singapore Taekwondo Federation (STF) organized the two courses over the weekends at the National Training Centre.
The Poomsae Refresher Course held on 12 April 2008 attracted 26 participants who found the session enriching. They were glad to be given the opportunity to catch up with the rest who had attended the course earlier.
The coaches who attended the refresher course are as follows.
Soh Kwang Kian Steven Seah Qun Li Johnathan
Tan Huay Shyuan Georgina Nick Sia
Fang Wen Kai Pek Keam Gim
Chua Chuan Hoe Jahangir Khan Gaffoor
Joseph Lee Lum Zheng Liang
Ho Yao Tong Victor Go Ngee Boon Rocky
Ganesan s/o Sundaram Tay Xiong Cheng
Qui Yuan Huei Gladdy Ong Bee Ai Alice
Tan Hui Hong Melissa Yeo Teck Chye
Ong Ker Seng Teo Yeow Hong
Goh Kai Lin Tinarani d/o Tamilchelvan
Li Derong Eric Chua Kok Hai
Tan Guan Wei Max                           Pauline Lim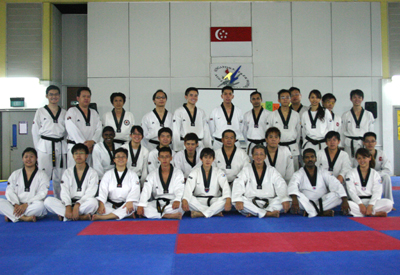 The Poomsae Course conducted on 13 April 2008 saw 9 participants qualified as Poomsae Coaches. They earned the qualification after passing both the theory and practical tests.
The latest additions to the more than 250 poomsae coaches are as follows.
Foo Miyi June Lor Keli
Chua Jun Xian Zheng Zhimin Vincent
Lee Sian Wee Gunaseelan T
Nah Wee Yang Amirul Mohd Amin
Ho Mun Wai