More than 200 participants attended the New Poomsae Workshop held on Saturday 10 January 2009 at the National Training Centre.
Besides learning the philosophy embedded in the new poomsae, the participants were taught the goal of poomsae training and the steps to achieve the goal.
At the end of the session, all the participants were able to perform the two new poomsae for white belts, appreciate the movements and effectively help their trainees or juniors improve their performance. On top of this, the participants had a better picture of the grading and promotion systems and first-hand information on the latest changes to the General Syllabus.
The members were happy with the changes to the syllabus as they would allow candidates to perform better during the grading. They also felt that the new syllabus would give the candidates a higher chance of passing.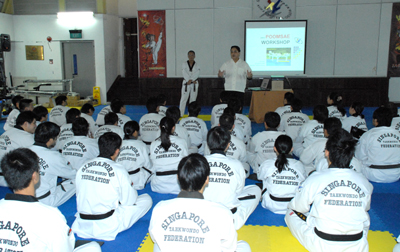 STF President Milan Kwee was present to open up both sessions. Among other things, he said: "The changes to the syllabus were the result of valuable feed back from coaches. We encourage and value the suggestions and opinions of its members."
He went on to ask the participants to suggest ideas which would help the STF achieve greater heights.
In view of the overwhelming response for the workshop, coaches and black belts from J H Kim Taekwondo Institute had agreed to have their session on Saturday 17 January 2009 from 6.00pm to 7.30pm at their TurfCity Dojang. Black belts who have missed last week's workshop may also join the session.
If you wish to attend the workshop at Turf City, please register by calling Jolene, Theresa or Rosalind at 63451491.
The application form for the workshop is attached.
[webmaster]expired form was removed