More than 150 qualified poomsae coaches attended the certificate presentation ceremony on 26 November 2006 at the National Training Centre.
It was a simple yet dignified ceremony which saw the coaches receiving their certificates from Mr Milan Kwee, President of the STF, according to their levels.
The levels were accorded to the coaches based on their grades. Level 1 (Provisional) was given to coaches who possess a 1st dan blackbelt. A full Level 1 qualification was awarded to 1st dan blackbelt holders with NCAP certification and 2nd dan coaches. While 3rd and 4th dan coaches were given Level 2 certification, 5th dan and higher coaches received Level 3 qualification.
For future poomsae coach courses, ALL participants regardless of their ranking will commence from Level 1 (Provisional) if they do not have NCAP qualification and Level 1 if they do. Their dan qualification will not be used as a yardstick for the different levels.
The levels will indicate the proficiency of the coaches to teach the various patterns.  Level 1 (Probationary) and Level 1 coaches can teach effectively up to Poomsae Koryo.  Level 2 coaches are qualified to teach up to Poosae Sipjin and Level 3 coaches, up to Poomsae Hansu.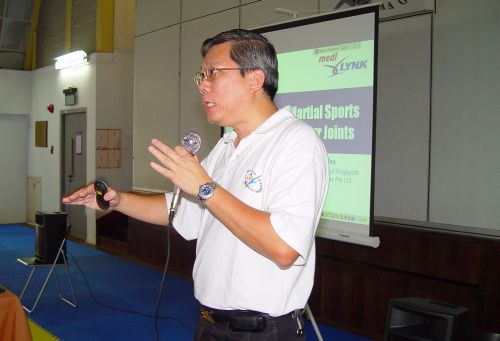 The certificate presentation ceremony was preceded by an interesting talk by Dr Lee Chee Wee, CEO of LYNK Biotechnologies Pte Ltd, on the effect of martial sports on joints. It was rounded off with gifts for all certificate recipients and a buffet brunch which provided ample opportunity for officials and coaches to interact with one another.