13 members from 8 clubs participated in the Grading Preparation Workshop organized on 14 September 2008 at the National Training Centre.
The course was conducted by the Chairman of the Board of Examiners. He was assisted by three senior examiners, Chin Khee Shin, RA Jeyaraman and Wong Liang Ming.
The primary objective of the course was to make sure that participants are aware of their weaknesses which could cause their undoing during the grading.
Wong Liang Ming told the participants: "After this course, you should be able to tell why some candidates fail. If you fail to make the grade, you should also be able know why.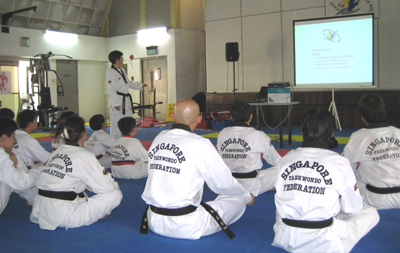 "If you feel that you are not ready for the grading, you should postpone it. The examiners are not 'blind'. They can see clearly when you make a mistake. The same mistake can be considered as a major or a minor error depending on the circumstances."
She went on to explain in detail what she meant.
The participants showed that they understood her message when they had their practices.
Under the watchful eyes of the experienced examiners, every mistake made by the participants were pointed out and corrected.
Knowing the expectations of the examiners very well, the participants would be taking their grading ready to give the examiners what they wanted.
List of Participants
Jason Rohan Cheong Zhi Jian (Bukit Timah TKD)
Lee Kar Churn Eddie (Jurong Town TKD)
Yap Ming Min Rossellini (Jurong Town TKD)
Lee Tong Loon (Teck Ghee CC)
Ng Wee Leng (Anglican TKD)
Tan Ee Jin Jovi (Bishan CC)
Gerard Lee (Sports Team)
Margaret Joyce Lee (Sports Team)
Brendan Chia Wai Fun (Pek Kio CC)
Victor Tan Jun Yang (Pek Kio CC)
Mendel Lee (St Teresa TKD)
Chew Xuan Zhi (St Teresa TKD)
Poon Wai Tung (St Teresa TKD)