They found out what the examiners expected of them. They went through a mock grading. Most importantly, they gave themselves a better chance of passing their grading by attending the Grading Preparation workshop conducted on 24 February 2008 at the National Training Centre.
The course conductors comprising senior examiners put in a lot of effort in highlighting their expectations. They told the 25 participants, among other things, that the judgment for grading and competition was not the same.
For example, a badly clenched fist would cause the performer a 0.1 point in a competition. However, in the grading of grade 2 and higher candidates, the same mistake would be considered as very serious and could result in their failure.
A lot of time was also spent in correcting the common errors made by the participants.
Based on the feedback of the participants, they enjoyed the training and felt that they had a better understanding of what they had to do to pass their grading.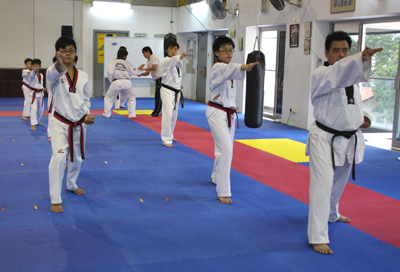 Special mention must be given to Peter Lim who attended the session with eight of his students. This is what we call 'leading by example'. As Peter had attended similar workshop before, he helped out wherever required.
The course conductors were Steven Soh, Chin Khee Shin, Tan Cheng Hui and Lim Teong Chin. They were assisted by Jimmy Tay.
The following are the course participants who will receive their certificates soon.
Chew Yuen Chon Aloysius Raphael
Tang Min Jie
Ho Yao Tong Victor
Teo Shiok Yee Evon
Lee Han Ying
Teo Hui Xian Jocelyn
Lum Zheng Liang
Chia Mui Sowe
Neui Jun Wei Timothy
Chia Joey
Tham Jit Hung Dawson
Ong Kok Keng Oliver
Chua Chen Kang Aloysius
Goh Jun Jie
Hwang Kai Wen
Leong Hong Jun Leon
Hwang Kai Yin
Lim Kai Peng Speed
Hwang Kai Yun
Lim Jwan Ming Peter
Adam Slater
Thom Slater
Long Wen Hui Jane
Er Sing Yan
Chan Wan Ying