Candidates will certainly have a better chance of passing their grading if they attend the Grading Preparation Workshop. Why?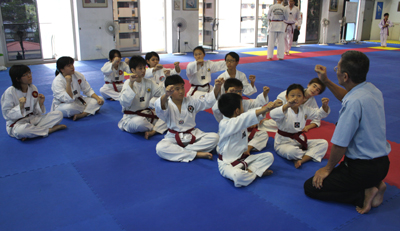 After the workshop, the candidates will know exactly what the examiners, who will be conducting the grading and the workshop, are looking out for. All they need to do is to perform according to what the examiners want to see.
What's more, candidates who have attended the workshop will be awarded a pass if they are considered 'borderline' cases.
Members who have attended the Grading Preparation Workshop are requested, with effect from the April 2009 grading, to submit a copy of the certificate of attendance together with their grading applications.
The next grading workshop will be held as follows.
Date : 1 February 2009
Time : 2.00 to 5.00pm
Place : National Training Centre (NTC)
Dress Code : 'Dobok'
Certification : Certificate of Participation
Fee : $30
Closing Date : 29 January 2009 (Thursday)
The workshop is open to red belts (senior and junior), poom belts and black belts.
Coaches are urged to encourage their eligible members to attend.
The registration form is attached.
[webmaster]expired form was removed