Participants in the Kyorugi Referee Course held on 28 & 29 July 2007 and 4 August 2007 at the National Training Centre took their test on 5 August 2007.
Most of the participants did well in the practical test. They made up for their lack of experience with their confidence which was the result of the drills given to them during the course.
Said Mr Steven Soh, the evaluator for the course: "Overall, I am satisfied with the performance. I can understand why some of them were hesitant when they were pressured."
In the theory test, Yeo Kwee Kee and Lim Hanwei registered perfect scores for the 'true-false' questions. But Kwee Kee beat everyone when she scored full marks for the whole paper.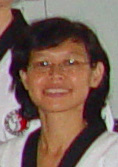 That's not all. She was unanimously voted the best trainee by the course conductors.

The following successfully completed the course and were awarded 3rd Class (Provisional) qualification.
Leong Sen Zhuo Samuel
Lim Haoxiang Desmond
Ng Wee Meng
Lim Jin Yi Ernest
Tan Jing Yang Derrick
Chew Zhao Ying
Lau Jun Hong Jonathan
Yeo Kwee Kee
Tan Qin Sheng Jimson
Tan Yong Quan
Gan Boon Seng
Liew Thiam Yew Eleutherius
Ong Sze Hwee
Kho Liang Kok Jonathan
Quak Soon Meng
Lee Zhen Chong
Daryl Pravin Naidu
Wee Cher Hong Jonathan
Chia Eng Lee Andy
Lim Sharon
Lim Hanwei
Mok You Cheng Jason
Mok You Qiang Ivan