Prof Jung Kook Hyun, Olympic and 4-time World Champion, was in Singapore from 20 to 24 October 2011 to conduct two sparring workshops. He shared his secrets of what makes a champion to more than 50 lucky participants who found his teaching fun, vibrant and enlightening.
Interesting feedback was received after the workshops.
Said Adrian Lim of Apex TKD: "When I was a young, I looked up to Prof Jung as my idol. He was really fantastic. It was my good fortune that I had the opportunity to meet him in person at the workshop and, as a bonus, learn from him."
Many participants were of the view that the workshops were not only value for money but also an excellent opportunity to pick up important points on sparring. They felt that it was a great loss for those who did not attend the workshops.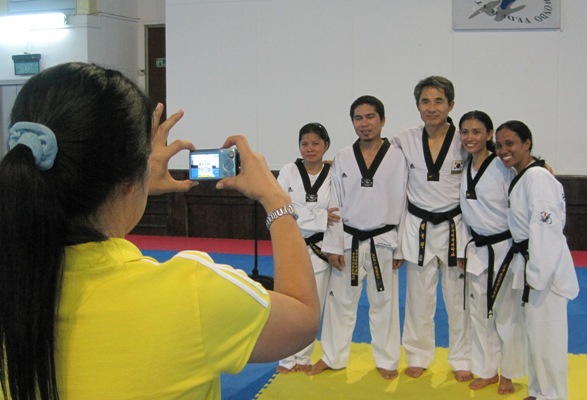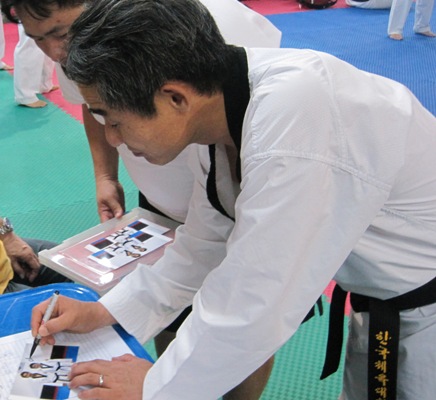 At the end of each workshop, the participants queued up to take pictures with Prof Jung. Some of them brought the discs produced by Prof Jung for him to autograph while the more 'enterprising' brought pictures taken with them for him to sign the next day.
While Prof Jung was in Singapore, he visited Induk TKD where one of his students was teaching. He also watched the TEAMgOLD members having their weekly session a the National Training Centre.
Said Prof Jung before he left Singapore: "I am glad that I accepted the invitation of the STF to conduct the workshops. During my stay in Singapore, I learned a lot of things. The country is clean and green and the people are very warm and friendly. The food was delicious. And the various initiatives undertaken by the STF are new to me.
"I am very impressed with the scheme to encourage those not-so-young to continue training. This is something I will bring back and share with my students.
"I would like to thank Mr Milan Kwee and many other officials including those from Induk TKD for making my visit to Singapore a memorable one."