If you did not attend the annual 'Wired to Win' Seminar which was held on 18 March 2007 at the National Training Centre, you have missed the opportunity to learn how to promote taekwondo and manage a club professionally, understand the importance of teamwork and gain insight into the impact of martial arts on joints.
Mr. Milan Kwee, STF President, kicked off the seminar by showing his appreciation to the more than 100 participants for believing in continuing education and the speakers for taking time off from their busy schedule to share their knowledge.
He also highlighted the objectives of the seminar which were primarily to upgrade the knowledge of black belts and provide a platform for them to network and build team spirit.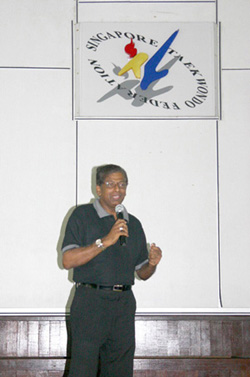 As expected, the speakers – Mr G V Nathan (Principal Consultant, Brainpower International Management Consultancy), Mr Michael Fong (Director, Actuated Associates Pte Ltd), Mr Edmund Tan (Founder, St Teresa Taekwondo Centre) and Dr Lee Chee Wee, CEO, Lynk Biotechnologies Pte Ltd) – impressed the participants with their extensive knowledge of their respective topics. They also presented the contents clearly and understandably.
Here are some of the participants' feedback which speaks volumes of the speakers and the participants themselves.
It is worth my money.
I acquire some useful information that I can apply.
The knowledge learned is useful for me and my members.
It is fun, not boring.
It is interesting and set me thinking.
My general knowledge has been enhanced.
I have a better understanding of how to plan, organize, lead and control.
I find the session very educational and motivating.
The STF also used the opportunity to appeal to the charitable spirit of the participants to support Assisi Hospice Teddy Bank project.  Ms Geraldine Lee, Public Affairs and Volunteer Program Manager of the Hospice, provided them with more information on the fund-raising effort.