The poomsae coach course held on Sunday 7 December 2008 attracted 26 participants. Only 22 out of the number made the grade.
The course was conducted by Tan Kok Heng, the Secretary of the Coaching Committee.
It covered what the coaches are required to know in order to help prepare their teams for poomsae competitions.
They learned not only the finer points of poomsae performances but also the common areas of weaknesses in which the judges would be looking out for.
Poomsae competitors who are trained by coaches who had gone through the course would certainly have an edge over their rivals who are guided by 'unqualified' poomsae coaches.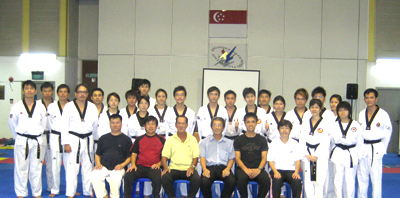 The following participants successfully completed the course.
Tan Zheng-Kai Aaron
Tan Lian Hoe
Goh Ying Shi Darwin
Ke Zhi Qun Randal
Teo Wan Choo
Ang Wei Lin
Cheok Kai Hwee Eileen
Ko Yee Chow Angus
Tan Jia Jun Daryl
Chong Ai Lin Joyce
Goh Aik Leng
Yong Chong Kit Danny
Yong Thim Ting
Chong Chih Chung
Teo Johnboy John
Yong Ming Hao
Gerard Lee
Margaret Lee
Ong Mei Lin
Bong Peng Luck
Low Jun Jie
Low Kai Wen