About 50 blackbelts including some from the national squad gathered at the National Training Centre on 19 July 2007 to attend a workshop conducted by Chen Wei Hsin.
Wei Hsin, a holder of several international titles and personal trainer of Chen Shi Xin (2004 Athens Olympics Taekwondo Gold Medallist), was invited by the Singapore Taekwondo Federation to share his knowledge with the coaches and the national squad players. For the workshop, he focused on the key to sparring success.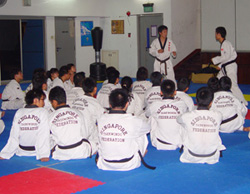 The participants showed tremendous interest in his techniques. Some of them were seen practicing the moves in front of the mirror while others were asking him many and varied questions well after the workshop.
Said National Coach Wong Liang Ming: "Wei Hsin has been invited not only because of his knowledge and experience but also his willingness to share his secret recipe of producing champions. The workshop participants have benefited from the session. And most importantly, our national squad players appreciate what have learnt previously."