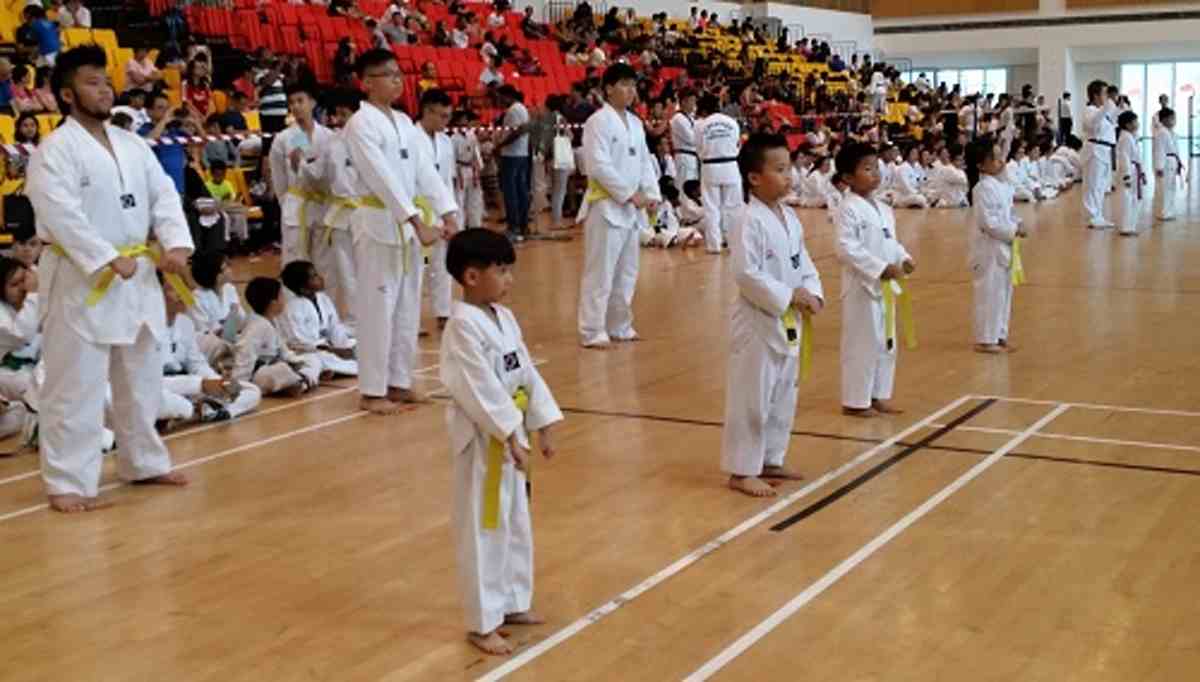 | | | | | |
| --- | --- | --- | --- | --- |
| Saturday | 18 Apr 20 | 2:00pm -6:00pm | (Senior Red 1 & above) | Toa Payoh Sport Hall |
| Sunday | 19 Apr 20 | 9:00am -6:00pm | (Junior Red 1 & above) | Toa Payoh Sport Hall |
IMPORTANT INFORMATION

Submission for the Grading can only be at the STF office during office hours.
Please ensure that ALL grading cards are properly completed and duly endorsed. A recent photograph of the candidate must be attached.
For ALL candidates who are going for Red 1 & above, please have the following documents during submission:
Candidate's grading card
1 photocopy of the candidate's Identity Card (front & back) / Birth Certificate (for candidate below age of 12)
2 recent IC / passport photographs of the candidate
Form B (duly completed)
***Submission will not be accepted if any of the documents is not available or, for Form B, partially completed.
Submission will not be accepted if candidate fails to produce any of the documents mentioned above.
The last day of submission is on 26 Mar 2020 (THURSDAY). Any submission after this date will be considered as LATE SUBMISSION.
Late submissions for candidates taking Red 1 & above are to be done within two (2) weeks from 27 Mar 2020 (FRIDAY). Submission beyond the grace period of two (2) weeks WILL NOT be accepted. An administrative fee will be charged accordingly for late submission. The charges are as follows:
Period of Late Submission
Administrative Fee Chargeable
subsequent week from last day of submission

(27 MAR 2020 – 2 APR 2019)
SGD 10.00
subsequent week from last day of submission

(3 APR 2020 – 9 APR 2020)
50% of the grading fee payable by candidates for their respective grades.
As the Covid 2019 situation continues to develop both locally and internationally during this grading period, the procedure of the centralised grading will be as follows.
Affiliates are allowed to conduct internal assessments for their students based on the following guidelines.
The affiliate must already have registered their centralised or supplementary grading with STF.
Senior instructors (holders of STF 4th dan and higher) can assess their students who are going for up till RED BELT (2nd geup) going to BLACK-TIP (1st geup).
All BLACK-TIP (1st geup) and higher will be graded by STF-appointed examiners during the centralised grading or the affiliate-organised supplementary gradings. All affiliates are reminded that they are NOT ALLOWED to assess students going for 1st dan/poom and higher.
For the affiliates conducting supplementary gradings,

The affiliate is advised not to conduct large-scale assessment to reduce risk of transmission.
Assessment should be conducted in small groups with staggered timings or during their normal class timing to minimise exposure of students to large crowds. For those who choose to proceed, they should take all necessary precautions. These include:

Carry out temperature screening;
Look out for respiratory symptoms such as cough or runny nose, and deny entry to unwell individuals;
Remind students not to attend if the participants have recent travel history to mainland China, South Korea, Iran, Northern Italy (or any other countries stated within MOH guidelines during the actual supplementary grading) and require travel declaration, if possible;
Ensure that event venues are ventilated and are adequately equipped with facilities for handwashing; and
Increase the frequency of cleaning commonly used areas; and
Maintain a registration list of participants, if practical.

During submission, the affiliate will have to indicate with the Secretariat, the senior instructors (holders of STF 4th dan and higher) who is going to grade the students. Affiliates who do not have senior instructors (holders of STF 4th dan and higher) will submit the instructor with the highest Dan. The management committee will grant approval on a case-by-case basis.
For all students, their grades will only be recognized by STF if their grading cards are submitted within two weeks of the scheduled supplementary grading. All grading cards must have the instructor's own signature and a STF-authorized examiner's signature.
For all students, if the instructor feels that the student is deserving of a double promotion, they are to video the students' performance and send the video to STF within two weeks of the schedule supplementary grading. The student can only be awarded the double-promotion after STF's official approval.
An administrative fee of SGD 5.00 will be charged for late submission of candidates taking all other grades except Brown 1 & above.
A roll call will be taken at 1.30pm for Red 1 (Senior) candidates going for 1st dan and 2.30pm for 1st dan and higher candidates. Those who miss the roll call will be considered as ABSENT or LATECOMERS. Latecomers will not be graded.
Candidates are to turn up in proper dress code (as stipulated by the STF) for the grading. Candidates who fail to comply with the dress code will not be allowed to take the grading.
Supplementary Grading can only be conducted four (4) weeks before or after the Centralised Grading and will be subjected to the approval of the Grading Department.
Candidates will be taking the grading at their own risk and therefore will not hold the Federation, the Grading Department or anyone so concerned, responsible for any injuries, accidents or mishaps that may befall on them during the course of the grading.
For any enquiries, please contact the STF Secretariat Office or the Grading Department.