Mr Lim Biow Chuan, Member of Parliament (MP) for Marine Parade GRC, was promoted to 2nd dan in a grueling promotion test conducted by Chief Examiner and Chairman of the Board of Examiners, Mr Lim Teong Chin, on 3 October 2009 at the temporary Singapore Taekwondo Federation National Training Centre.
Although Mr Lim achieved is 1st dan some time in 1984 – that is 25 years ago – he showed that he still had what it took to be a 'fighting' MP. Mr Lim had no problem going through the test requirements which included poomsae, sparring and unarmed combat.
His inspired performance could also be attributed to the support he received from his family who were at the sideline watching him in action.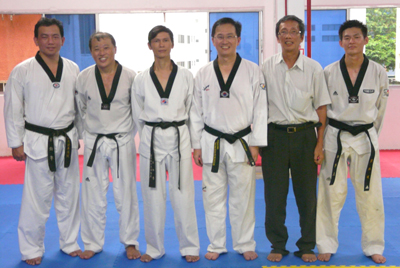 Two other taekwondo 'veterans', Mr Sunny Seow Chan Teng and Mr Lee Choong Hwa joined Mr Lim in the grading. Like Mr Lim, they proved worthy of the coveted 2nd dan.
Said the Chief Examiner: "I was impressed by their performance. In fact, they performed better than some of the candidates who were many years younger than them.
"They deserved to pass because they demonstrated courage, determination and more than sufficient techniques and tactics."
The Singapore Taekwondo Federation congratulates all of them on their promotion.