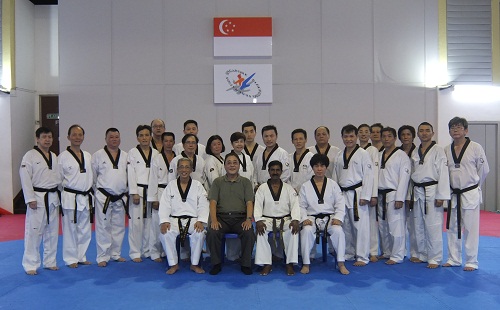 An examiners' seminar was conducted on Friday 30 October 2015 at the STF National Training Centre to, among other things, update the participants on the latest development of the sport, share ideas on the best practices and maintain consistency in the assessment of candidates. All examiners including 3 provisional examiners attended the event.
Mr Milan Kwee, Singapore Taekwondo Federation President, kicked off the event with his opening address which covered the important role that the examiners played in ensuring the smooth and efficient running of the promotion test exercises.  He said that the examiners should be mindful of their responsibilities at all times as the expectations of the candidates and their parents were higher than before.
After that, Mr Lim Teong Chin, Chairman of the Board of Examiners, gave a slide presentation on key grading guidelines and other important information.  Views and opinions of the examiners were sought on some practices to determine if they could be improved.
The seminar ended with a practical session by Mr Steven Soh, Vice-Chairman of the Board of Examiners.  He went through all the 'poomsae' and pointed out common errors made by candidates.
Mr RA Jeyaraman, Senior Examiner, said:  "I found the seminar enriching and interesting.  More importantly, it provided examiners the opportunity to share their thoughts and suggest ideas for the further improvements of the grading system."
All the examiners agreed that the seminar was beneficial to them and agreed with Mr Kwee that it should be held annually.