The Singapore Taekwondo Federation (STF) takes great pleasure to announce that its Board of Examiners Chairman and General Manager, Lim Teong Chin, had successfully achieved the coveted and highest grade of 9th dan for foreigners.
He obtained his grade in a promotion test conducted by Kukkiwon (the World authority for the award of international ranking for black belts) on 10 June 2009. This makes him the first and only taekwondo 9th dan in Singapore to be recognized by the World Taekwondo Federation (WTF), the Kukkiwon and the STF.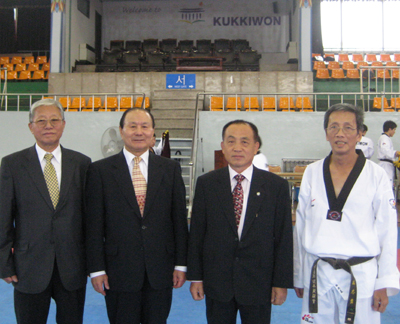 A true taekwondo exponent, Lim dedicated over 40 years to the art and sport. Besides being the highest local ranking exponent, Lim also achieved the following qualifications.
WTF International Kyorugi Referee (Special Class – Highest Level)
WTF International Poomsae Referee (1st Class – Highest Level)
Kukkiwon International Muye Referee (2nd Class)
Currently, he holds the following international positions.
Secretary-General, Asean Taekwondo Federation
Referee Chairman, Asian Taekwondo Union (the first non-Korean to be appointed the position)
Said Lim: "I cannot come so far without the support, encouragement and help from many people. And I owe them a debt of gratitude. At one stage, I lost steam and wanted to give up the sport. It was the current President and a great friend, Mr Milan Kwee, who rekindled my fire and spirit and made it possible for me to reach the top. My fellow coaches and my students also pushed me to achieve more. As they obtained higher grades, I had no choice but to upgrade.
"It may sound a bit cliché but the truth is: I am fortunate to have a wonderful and supportive family who shares my aspiration to do whatever I can in and for taekwondo."
The STF is truly proud of Lim's achievements and extends him its heartiest congratulations.