Jacqueline Quek Jie Lin earned her world ranking when she finished third in the Asian Martial Arts Games held in Bangkok, Thailand in August 2009. She is ranked 48th in the under 73kg for the women category.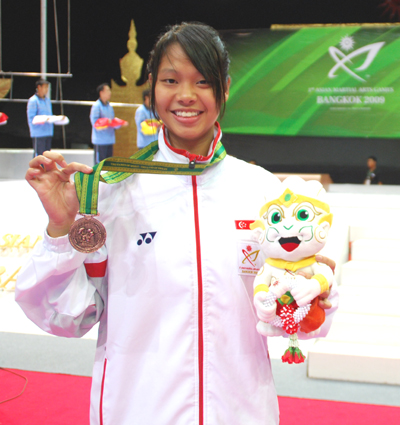 With that, she became the first Singaporean to be ranked since the ranking of players was introduced by the World Taekwondo Federation on 1 January 2009.
Jacqueline and her sister, Geraldine, both members of Leng Kee CC, were recommended by their coach, Derrick Tang, for inclusion in the National Training Squad in 2008. Although Geraldine showed more potential in the beginning, it was Jacqueline who went on to accomplish more.
In her first international assignment in Danga Bay Tournament in 2008, Jacqueline returned with a bronze medal. 1 year later, she took the silver medal in the Asian Cities Gold Cup held in Hong Kong in February 2009 and continued her medal-winning streak with a gold in the Asean Taekwondo Championships held on 6 June 2009 in Vietnam before she reached the podium in the Asian Martial Arts Games.
Jaqueline has recently been selected to represent Singapore in the World Taekwondo Championships in October 2009 in Copenhagen, Denmark.
The Singapore Taekwondo Federation wishes her the best in her maiden World competition.