The STF sponsored five local poomsae referees for the International Referee Seminar which was held in Bangalore, India from 4 to 8 June 2011.
The Singapore Five who were among 119 participants, were
Tan Kok Heng
Wong Liang Ming
Steven Soh Eng Hwee
Lee Thiam Poh
Lee Thiam Huat
At the seminar conducted by Mr Kim Kyung Chan, WTF Poomsae Committee Vice-Chairman, they learned the rules and regulations for poomsae competition and the factors that contributed to good refereeing. In addition to that, they had to perform basic movements and poomsae from Taegeuk Sa-jang to Hansu several times while being taught the finer points of some of the movements. At the end of each training day, they were tested.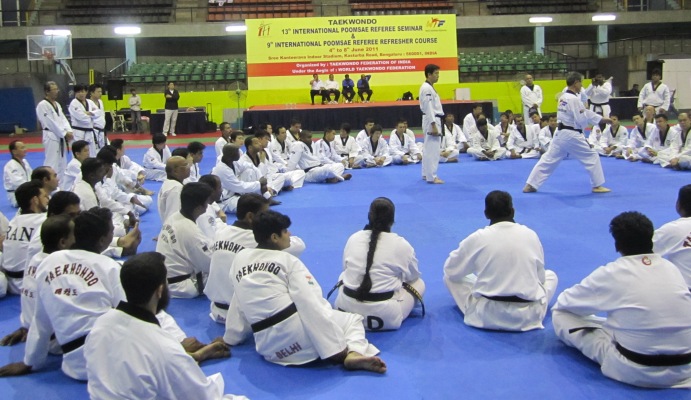 The course would not have been complete without the participants learning how to use the electronic system.  Every participant was given sufficient opportunity to practice.
One day was devoted to the assessment of the participants. They were evaluated on their theoretical knowledge, judging ability and performance competency.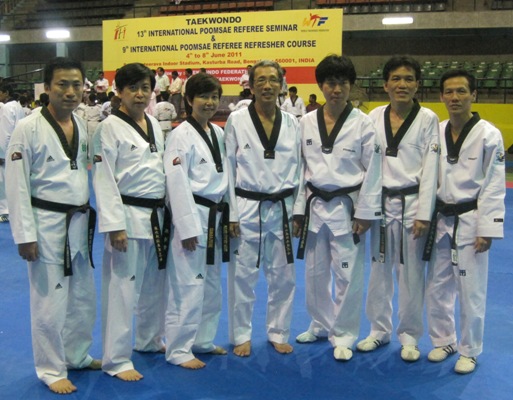 After more than a month and a half of anxiety, the five participants were relieved to learn that they were successful.  With their achievements, the STF now has seven international poomsae referees.  The other two were Lim Teong Chin and Tan Cheng Hui who also attended the course as a refresher.