More than 150 members congregated at the National Training Centre on 11 February 2010 just to enjoy each other's company.
The occasion: The Annual Singapore Taekwondo Federation (STF) Gathering.
The event which was graced by Prof Tan Cheng Han, STF Advisor was some sort of a reunion for members of the STF and their guests.
This year, the function was special as it was attended by the Senior Vice-President of Asian Taekwondo Union (ATU), officials and players from Indonesia Taekwondo Association, Singapore-based Korean taekwondo coaches and Korean coaches dispatched by the World Taekwondo Federation under its Peace Corps program.
After a brief opening speech by Mr Milan Kwee, STF President, STF Advisor presented tokens of appreciation to Pror Lee Kyu Seok, ATU Senior Vice-President, for his 34 years of contribution to the development of taekwondo in Singapore as STF Techical Advisor, Mr Lioe Nam Khiong for his role in establishing close relationship between Indonesian Taekwondo Association and STF and the four Peace Corps coaches (Mr Sohn Dong Wan, Mr Lee Geon Hee, Ms Hong In Jeong and Ms Eum Se Jin) for sharing their knowledge with the national training squad. Prof Tan went on to present commemorative certificates and souvenirs to the Indonesian team.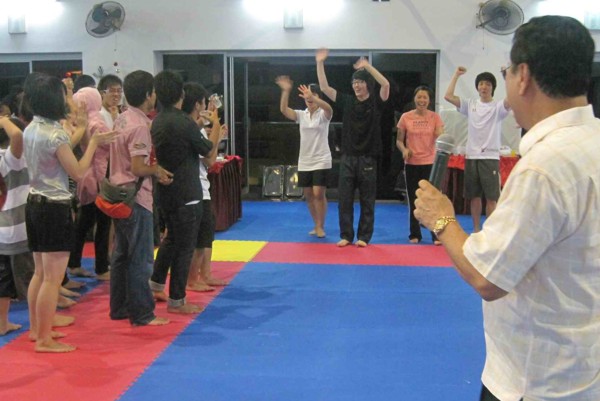 Buffet dinner with a sumptuous spread of food followed. When the participants were about done, they were entertained with a thrilling demonstration by the Peace Corps coaches. They were supported by some of the national training squad members. Lim Hyun added more fun and entertainment to the demonstration when he sportingly performed a taekwon-aerobic dance routine with the demonstrators. His back somersault and a few other moves drew thunderous applause from the crowd.
Five TEAMgOLD members took over the stage. They entertained with two 'oldies but goodies' songs. After that, it was game time for the younger members until it was time to call it a night.