Mandy (Mother) & Jean Sng (Daughter)

GOLD medal in the Family (Mother-Child) Event


"The time that we trained together was a unique and fun way of bonding." 


My daughter started learning taekwondo at INDUK Taekwondo in February this year, so this National Poomsae Championship was her maiden competition.  I felt that taking part in the championship would be a good exposure for her and definitely a good opportunity for her to gain some experience.  When she learnt that I would be taking part in the family event with her, she was delighted.  I decided to participate as I wanted to encourage her for her first competition.  This is also my first taekwondo competition. As I had to learn the pattern and train together with her, I found it easier to coach her at home.  The time that we trained together was a unique and fun way of bonding.
We enjoyed ourselves very much during the Championship and the whole experience was itself very rewarding.  To be able to clinch the gold medal was the icing on the cake.  Thank you!

– Mandy Sng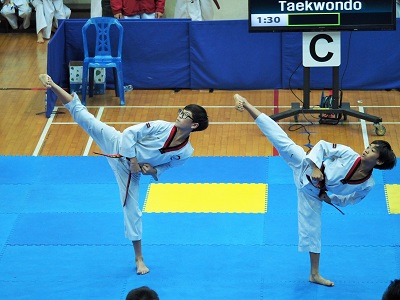 Darren & Bryan Yap

GOLD Medal in the Family (Siblings) Event

"(My brother) gave me a sense of confidence …"


We didn't get to train very much together, as my focus was in the mixed pair and team event. Bryan, my older brother, fell sick the week of competition, and didn't get to train at all. We only managed to practice together, a couple of times on the competition day.
At the time of competition, when I was out there standing beside my brother in the court, he gave me a sense of confidence; and I was very proud as this was the first time we competed as a pair. Out of all the medals I have won, this gold medal, which we won together in the Family (Siblings) category, is the most special one.
– Darren Yap