It is a show for the family! It is a show which taekwondo exponents should not miss! It is a show worth watching!
It is: JUMP – A comic martial arts performance.
Combining physical comedy and taekwondo, JUMP is a high-octane martial arts extravaganza hailing from Korea that features gravity-defying stunts such as slick acrobatics, sword-fighting and wall-walking.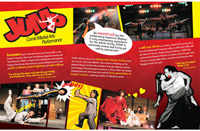 The show will be held on 30 June and 1 July 2007 at 2pm and 8pm each day at Esplanade Theatre.
If you are not in the category of child (4-12 years old), local students or senior citizen (55 years old & above), you can get a 10% discount for up to 4 tickets by producing your STF black belt card when you purchase the tickets from any SISTIC agents.
The STF has also arranged with the event organizer, Century Events, for members of the cast to conduct a workshop for our black belt and poom members. It will be held tentatively on 28 June 2007 at 7pm. More details will be announced once it is finalized.