P S Narayana Murthy, a black belt from London Taekwondo Academy, was posted by the company he was working to Singapore for a stint. He contacted the Singapore Taekwondo Federation (STF) to see if he could have some training while he was here.
Arrangement was made for him to train at the National Training Centre (NTC) as it would be convenient for him.
On his first day, the student of Master Usman Dilddar reported for training with some trepidation. He was not sure what to expect but he soon found the warm hospitality extended by the coaches and players to him were simply unbelievable. It made him feel very much like training among friends.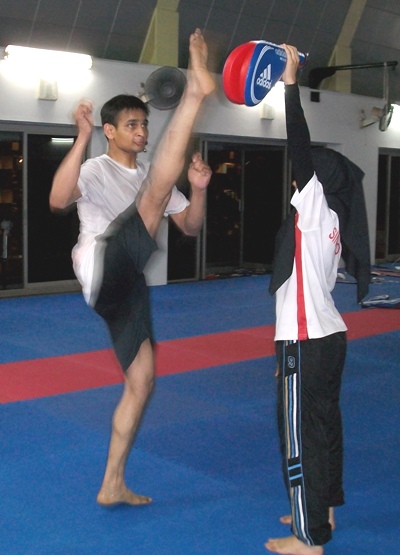 While he had no problem settling in, he found the humid and stifling weather a great challenge.
Mr Lim Teong Chin, General Manager of the STF, who made it possible for Murthy to train at the NTC observed him training one Sunday.
He said: "I am impressed by his passion for the sport and his humility. He is indeed a credit to his family, instructor and club.
"Murthy is always welcome to train in Singapore as he is a member of our taekwondo family."
On returning to London on 25 June 2010, Murthy wrote: "I really enjoyed my training there and that was a wonderful experience I ever had in my life so far. Wherever I go in the world, whichever federation I visit in my life, I am sure this is one thing I can share about my training and experience in Singapore."