Master Kim Yong Ho, President of the World Mudo Academy, visited Singapore from 24 to 28 August 2008. He was welcomed by Mr Milan Kwee, President of the Singapore Taekwondo Federation (STF) at the Changi International Airport. Mr Kwee was delighted to meet his instructor after 32 years.
However, Mr Kwee was not the only Singaporean student of Master Kim. Master Kim had taught many senior taekwondo members when he was the STF Technical Advisor from 1975 to 1977. He was succeeded by Prof Lee Kyu Seok who he recommended. Prof Lee is still the Technical Advisor of the STF.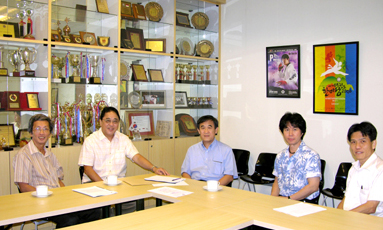 During his visit, he met not only his old students but also updated key members of the STF on the development of taekwondo in the World and the direction the sport would be taking. He also visited the National Training Centre and spoke to members of the training squad on the importance of observing the martial arts code and giving their parents love and respect.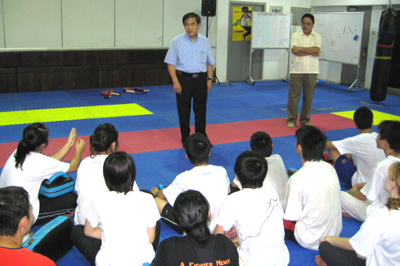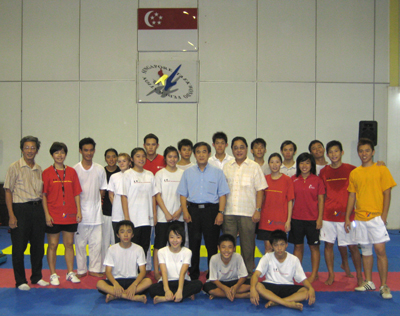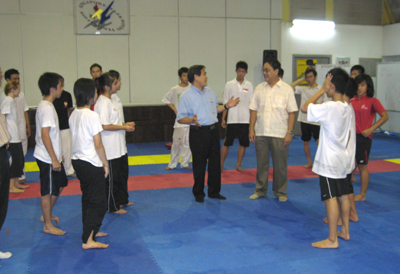 As President of the World Mudo Academy, he extended his personal invitation to the STF to attend the World Mudo Festival in Korea from 24 October 2008 to 4 November 2008.
He said: "The festival offers participants a unique experience of martial arts. It is not only about taekwondo but more."
Master Kim showed his softer side when he insisted on visiting one of his students who was fighting a life threatening illness. During his visit, he not only comforted and counseled him but also shed some tears. It was indeed a poignant moment for those who accompanied Master Kim. On the day of his departure, he visited him again.
Before Master Kim left for France en route Korea, he urged friends of his seriously ill student to visit the student frequently and give him all the morale support he required.