It is with deep sadness that the Singapore Taekwondo Federation records the untimely and sudden passing of Ong Ban Guan. He apparently succumbed to a heart attack. The news came as a shock to members of the Federation.
Ong, who was in the pink of health despite his age, was at the Federation's office only a few days ago exchanging good-natured banter with the staff. That was him. He was well-liked by many people simply because he was friendly and pleasant to be with.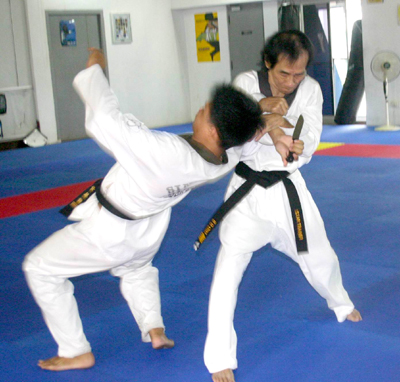 All his friends will certainly miss him. After all, he was a jolly good fellow.
As for his students, they would also miss his teaching and guidance. Ong was a good coach who believed in self-development. He was also an exemplary taekwondo exponent – humble, respectful and compassionate.
The STF could always depend on him for support. His death is a loss to the organisation.
The STF sends its condolences to Ong's bereaved family and wishes them strength in coping with their tremendous and heartbreaking loss.
Ong's wake is at Blk 771, Bedok Reservoir View.
Farewell, Ong, farewell. And thanks for the memories.