Taekwondo was officially accepted in the school sports calendar last year. This year saw the overall best boy award going to a taekwondo exponent. It was indeed a special recognition for the sport and the efforts of the winner – Kang Rui Jie.
Rui Jie beat 21 other very strong contenders from the other sports including sailing, swimming and table tennis for the distinction. He received the award from Brigadier-General Lim Teck Yin, Chief Executive Officer, Singapore Sports at a ceremony held on 28 September 2011 at Nanyang Polytechnic Auditorium.
His citations read as follows.
"Kang Rui Jie has benefited tremendously from his passion and commitment to taekwondo which he started learning at the tender age of 10. He was awarded his poom belt (junior black belt) at the age of 12. The more he achieved in the arena, the harder he trained to challenge himself. Even as his schedule became more hectic, Rui Jie took pains to manage his time and studies well.
In the local scene, Rui Jie has won the National Taekwondo Poomsae Championships and National Inter-School Taekwondo Championships Individual Gold in 2010 and 2011.
In the 3rd Commonwealth Taekwondo Championships 2011, Rui Jie won the individual silver medal as well as the gold medal in the team category. At the 10th ASEAN Taekwondo Championships 2011, he won a pair bronze and was placed 5th in the individual category.
Despite being barely 16 years of age, Rui Jie is getting ready to contribute back to his beloved sport. He is a qualified Poomsae Coach (Level 1), National Poomsae and Kyorugi Referee (Class 3P) and has been accredited with the National Coaching Accreditation Programme (Level 1 – Technical).
He is our champion and he truly deserves to be awarded the Overall Best Sports Boy Award."
Joining Rui Jie at the awards ceremony was Chelsea Ann Sim Shu Zhen who won the Best Sports Girl Award for taekwondo. She was one of the candidates for the Best Sports Girl Award but had to concede to a better athlete, Rachel Lee Qing from sailing.
Two other taekwondo athletes were also recognized. Tio Jia Xin and Ong Jin Cong Keith were awarded national colors. Both of them had won the awards twice. Jia Xin won the Best Sports Girl Award for taekwondo last year.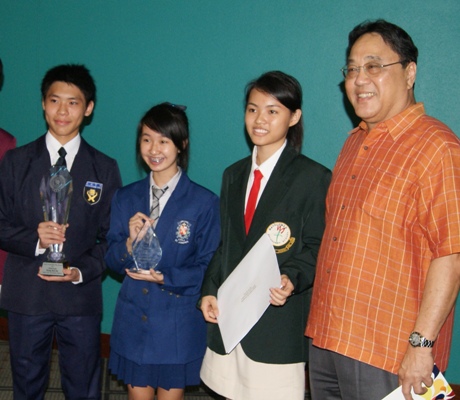 Mr Milan Kwee, STF President, was present to witness and congratulate the award recipients from taekwondo.
The Singapore Taekwondo Federation would like to place on record its appreciation to the Singapore School Sports Council Colors Committee for the honor accorded to taekwondo athletes.