The Singapore Taekwondo Federation is NOT INVOLVED in the unfortunate and serious incident reported in the local media.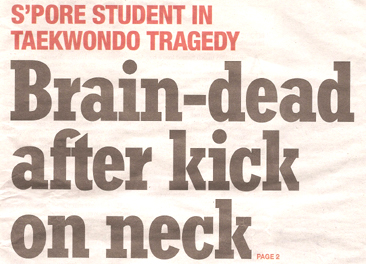 The tournament was jointly organized by Greenville RC and Kg Ubi-Kembangan CSC and technically supported by the Singapore Taekwon-Do Gymnasium. None of the participating clubs including the Gymnasium is affiliated to the STF.
All affiliated clubs of the STF are aware of the premium placed by STF on the safety of its participants in all its activities. After all, the STF is cognizant that it is accountable for every participant's safety. Therefore, it does not compromise on its safety standards.
Here are some of the measures taken by the STF to ensure the safety of its participants in the PA-STF Championships.
All coaches and players must be conversant with the competition rules and regulations.
For juniors and young juniors, head kicks are strictly not allowed.
Players can only compete in their respective belt and weight categories.
Sparing competition is only for Red, Poom and Black belts. There is no sparring for Blue belt and lower grades.
Red belt holders are allowed to compete in the category for only two years.
Players must declare if they have other martial arts qualifications.
Safety equipment including head gear, body protector, mouth piece, groin guard, shin and forearm guards and gloves are mandatory.
Sparring must be conducted on WTF-approved mats.
All referees must be trained and qualified by the STF or the WTF.
Qualified medical staff must be present throughout the competition.
An ambulance must be on standby at all times.
All members of the STF should continue to observe the principles of sports safety to ensure safe and positive experience in the sport.