Prof Lee Kyu Seok, who is concurrently the Senior Vice-President and Secretary-General of Asian Taekwondo Union (ATU) and a long-time technical advisor of the Singapore Taewondo Federation (STF), was in Singapore from 3 to 5 September 2011.
During his visit, Prof Lee met STF President, Mr Milan Kwee, and some members of the Management Committee at the STF office. He was briefed on the development of taekwondo in Singapore and kept updated on the coming SEA Games taekwondo event.
Among other things, Prof Lee informed Mr Kwee of the coming ATU Extraordinary Meeting which would be held before the Asian Olympic Qualification in Bangkok in November 2011 and the Asian Championships in April 2012.
For Mr RA Jeyaraman, STF Advisor to the President, it was a nostalgic moment meeting Mr Lee. He showed Mr Lee a letter which Mr Lee sent him on 21 August 1979 – that is more than 30 years ago! They spoke about the times they met in Korea.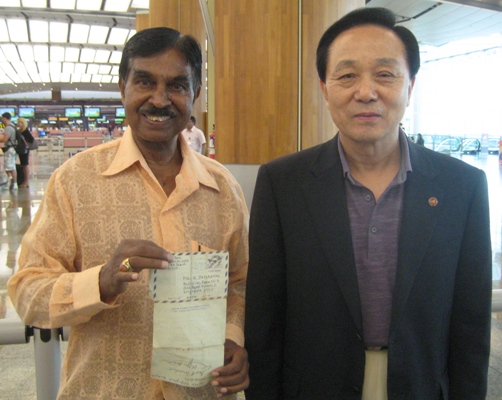 Said Mr Jeyaraman: "I appreciate the warm hospitality Mr Lee showed me when I was in Korea training in his gymnasium. He was an excellent but very strict instructor. That was probably the reason for his students' outstanding achievements in the international competition. Some of them were World Champions."
Before leaving for Korea, Prof Lee said that he was impressed with the effort made by STF in the propagation of taekwondo. He encouraged the STF to continue to pro-actively promote taekwondo as a character building sport.