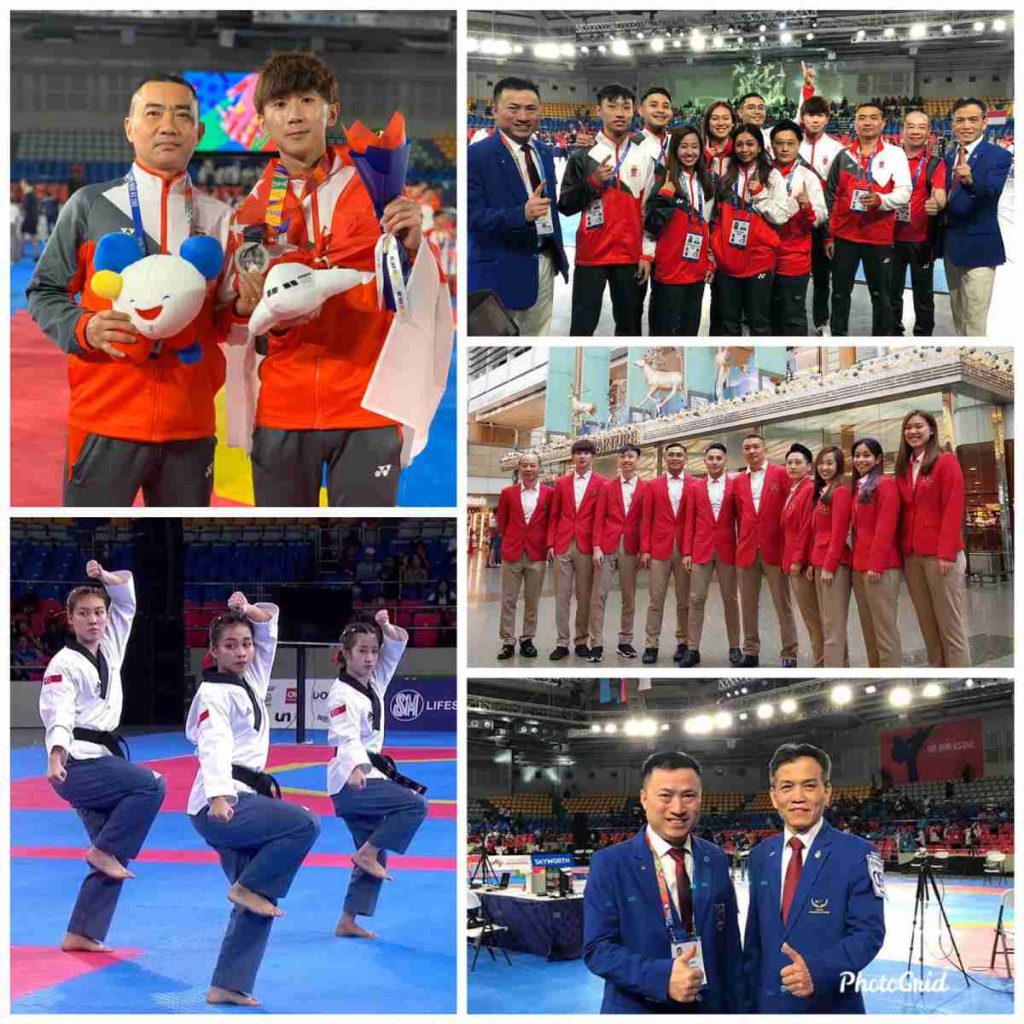 7 Taekwondo athletes represented Singapore in the 30th SEA Games from 7th – 9th December 2019.
POOMSAE
Female Individual- Chelsea Sim Ann Shu Zhen (Axiom Taekwondo)
Female Team – Chelsea Sim Ann Shu Zhen (Axiom Taekwondo), Diyanah Aqidah Binte Muhammad Dian Khudhairi (Acme Taekwondo), Chin Ying Xuan Megan (Acme Taekwondo)
KYORUGI
Male Under 54kg – Yap Teng Chung (Zen Academy)
Male Under 58kg Ng Ming Wei (Cadre Academy)
Male Under 63kg – Raja Arshad Bin Raja Mahmod (Sportif Taekwondo)
Male Under 68kg – Raja Zulfadli Bin Raja Mahmod (Sportif Taekwondo)
The athletes were accompanied by Dr Ho Mun Wai as Team Manager, Mr Henry Tan Kheng Juan as National Kyorugi Coach and Ms Lee Na Lee as National Poomsae Coach.
While the Poomsae athletes put up good performances, they were unable to reach the podium. Similarly, while the Kyorugi athletes put up valiant performances, only Ng Ming Wei succeed in reaching the finals of his weight category. He met, fought well, but lost against Ramnarong Sawekwiharee, Thailand's 2015 and 2017 world championships bronze medallist. Ng Ming Wei's silver medal is Singapore's best result in the men's kyorugi since S. Sinnathurai's flyweight gold in 1999.
Singapore was also represented by two of our International Referees, Mr Andy Lee Thiam Poh and Mr Roy Tan Kok Heng. They were both lauded for their outstanding performances as referees and they received outstanding referee awards from the organisers.