Despite sending a depleted team, we returned with 16 medals in the 8th Asean Taekwondo Championships held on 12 and 13 October 2007 in Ba Ria Vung Tau, Vietnam. Although none of the medals were in the colour we wanted, we were satisfied with the collection considering the reduced strength of our team and the level of competition.
The breakdown of our medal haul is as follows: one silver and five bronze medals in the kyorugi events and three silver (individual), two silver (team), four bronze (individual) and one bronze (pair) medals in the poomsae competitions.
Two of our better players, Jason Ong and Joyce Lim, who had been slated for the SEA Games in December 2007, had to stay home because of school commitment and injury respectively. Another SEA Games player, Lanetar Quek, was nursing a knee injury which put her at a disadvantage but not out of contention. Charlotte Tang was also suffering the same fate as Lanetar.
Said Singapore Team Manager Ng Lee Noi: "We were proud that the players gave their all at the competition. Not only that, they were sporting enough to participate in the poomsae competition although they were not really prepared for it."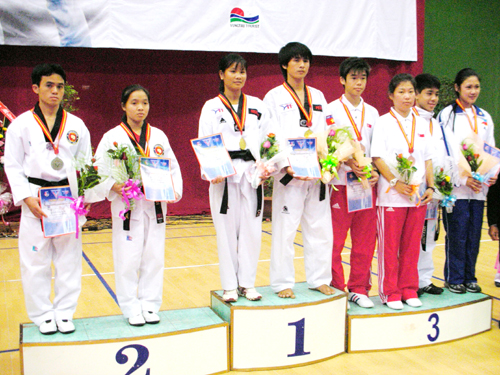 Singapore did not intend to field a team for the poomsae competition.  At the last-minute request of the organizers, Singapore obliged and did well.  Even the Team Manager jumped into the fray and won 2 medals.
Mr Milan Kwee, President of the Singapore Taekwondo Federation, was at the event to attend the Asean Taekwondo Federation meeting and give our team the much-needed morale support.
Singapore Flagbearers

Team Manager – Ng Lee Noi
Coach – Wong Liang Ming
Players (Male) – Jason Tan
Chow Cheong Yean
Low Chuan Kai
Players (Female) – Lanetar Quek
Charlotte Tang
Nurul Shafinas
Results
Kyorugi Events

Silver
– Charlotte Tang (Junior Female Welter)
Bronze
– Jason Tan (Senior Male Fin)
– Low Chuan Kai (Senior Male Feather)
– Lanetar Quek (Senior Female Fly)
– Jason Tan (Junior Male Feather)
– Nurul Shafinas (Junior Female Light Middle)
Poomsae Events
Silver
– Low Chuan Kai (Senior Male Individual)
– Ng Lee Noi (Senior Female Individual)
– Charlotte Tang (Junior Female Individual)
– Jason Tan (Team Male)
– Chow Cheong Yean (Team Male)
– Low Chuan Kai (Team Male)
– Lanetar Quek (Team Female)
– Charlotte Tang (Team Female)
– Nurul Shafinas (Team Female)
Bronze
– Chow Cheong Yean (Senior Male Individual)
– Lanetar Quek (Senior Female Individual)
– Jason Tan (Junior Male Individual)
– Nurul Shafinas (Junior Female Individual)
– Jason Tan (Pair)
– Ng Lee Noi (Pair)