3 players representing Singapore in the Laos SEA Games taekwondo event returned with 2 bronze medals.
Carrying Singapore flag at the event held from 9 to 12 December 2009, Jason Tan, Lanetar Quek and Jacqueline Quek, did their best to better the results of the last two SEA Games in which Singapore had nothing to show for their efforts. It was not easy for them. They had to overcome intimidation from the other countries which fielded large teams for the competition. The vociferous battle cries of the other teams were demoralizing for the depleted Singapore team.
The three players felt sad for their other teammates who could not get the nod from the Singapore National Olympic Council selectors although all the nominated players met the selection criteria approved by the Ministry of Community, Youth and the Sport.
What's more, it was hard for them to understand the need to have the potential to win medals before being sent to a friendship Games. If that was important, then all the weak countries should stay at home too.
Never mind the distractions, Jason and Jacqueline fought well to return with a bronze medal each. Lanetar also gave her all but played the wrong game. For the mistake, she was denied the chance of going into the medal match.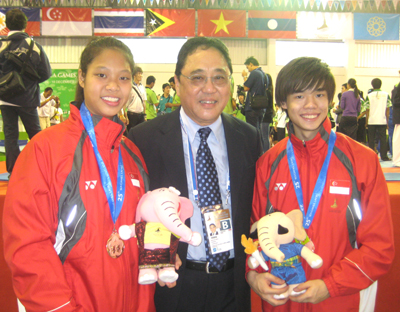 Said Coach Wong Liang Ming: "The players did their best. It was our bad fortune that we could not sent more players. If we could I am sure we could get more medals, at least one with different color."
The other Singapore taekwondo officials at the Games were proud of the performances of the players. They were there to assist the organizers in various roles. Mr Milan Kwee, STF President, was a Competition Supervisory Board member, Mr Lim Teong Chin, STF General Manager, was the Chief Referee and Mr Lee Thiam Poh, STF Tournament Chairman, was one of the referees.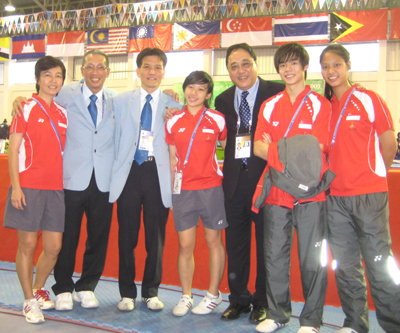 All in all it was a good outing for Singapore taekwondo players.