The 2nd National Taekwondo Poomsae Championships gave not only the organizers reasons to smile but also the participants. Why? The event held on 15 June 2008 was smoothly and successfully run. What's more, most of the participants had a fair share of the medals up for grabs.
The competition also had some inspiring moments when Ng Wei Hau, an Assisi Taekwondo Warrior, took centrestage. Wei Hau was diagnosed with brain cancer in 1999, at the age of 12, and was given only 6 months to live. He not only proved the doctor's prognosis wrong but also managed with determination and guts to participate in the event.Although his illness had weakened him tremendously, Wei Hau went through the routine with much labour and a little support from Milan Kwee, President of the Singapore Taekwondo Federation. The spectators observed Wei Hau performed with complete silence and exploded with sustain applause after he completed the poomsae.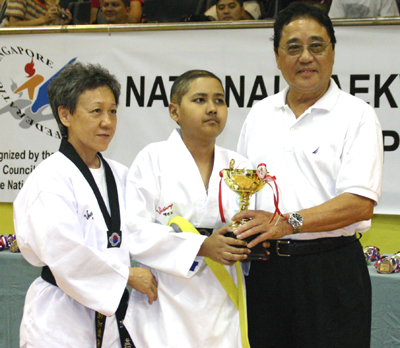 Chris Ong, at 75, was the oldest competitor. He was also an inspiring example of the strength of the human spirit. What's more, he proved that taekwondo was not only for the young but also for the not so young.
Another performer who deserved mentioned was Bjorn Chan, also an Assisi Warrior like Wei Hau. Bjorn, despite his handicap, displayed indomitable spirit to compete in the event.
The Singapore Taekwondo Federation honored Wei Hau with the Best Fighting Spirit Award and Chris and Bjorn with a Special Effort Award.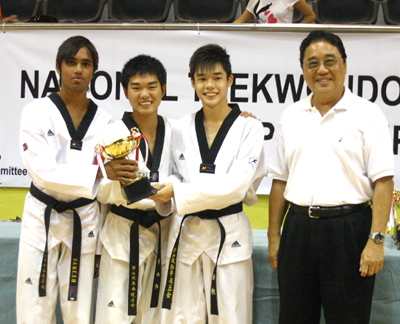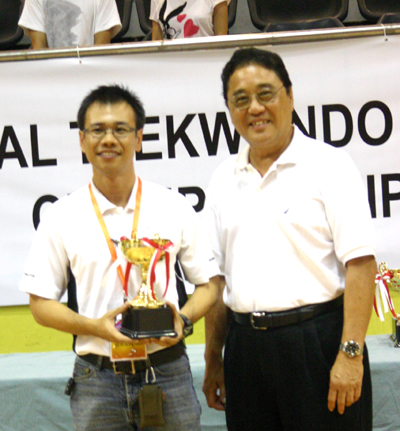 The other award winners were:
Active Participation – Acme Taekwondo
Best Team – Jason Tan Junwei, Sherman Wee Li Sheng, Ganesh s/o Selvaraju
Best Pair – Lee Kin Hong and Nurshaqinah Bte Kamsani
Best Coach – Samuel Tan
Best Female Performer – Charlotte Tang Xue Ting
Best Male Performer – Soh Hong Ray
The results of the competition and list of judges are attached.

(Photographs courtesy of Mr Jimmy Tay and Mr Tan Cheng Hui)