20 players boarded the plane to Chennai, India on 26 January 2011 to compete in the 5th Commonwealth Taekwondo Kyorugi Championships and 3rd Commonwealth Taekwondo Poomsae Championships. They returned separately on 1 February 2011 and 2 February 2011 with a total medal haul of 5 gold, 3 silver and 4 bronze medals.
The medals came from the following.
– Samuel Lee Wei Kang (Gold – Individual, Pair & Team)
– Joyce Lim Soon Yi (Gold – Individual, Pair & Team)
– Kang Rui Jie (Gold – Team / Silver – Individual)
– Chelsea Ann Sim Shu Zhen (Gold – Team / Bronze – Individual)
– Sherman Wee Li Sheng (Gold – Team)
– Chiew Wenqi (Gold – Team)
– Jason Tan Junwei (Silver – Male Under 58kg)
– Jacqueline Quek Jie Lin (Silver – Female Under 73kg)
– Chua Juan Juan (Bronze – Female Under 46kg)
– Nurul Shafinas Bte Abdul Rahman (Bronze – Female Under 53kg)
– Charlotte Tang Xue Ting (Bronze – Female Under 62kg)
Mr Milan Kwee, President of the Singapore Taekwondo Federation, who was at the championships as a VIP guest, witnessed the exploits of the players. He was visibly delighted with their efforts and enthusiasm to bring honors for Singapore.
He said: "Although some of the players could have done better, I am pleased that they had given their best not only in the competition but also in helping the organizers in the physical arrangements of the field of play. What's more, they had also demonstrated tremendous sportsmanship."
The kyorugi players would be leaving for Hongkong this weekend for the 15th Asian Cities Gold Cup Taekwondo Championships. The STF wishes them all the best in the championships.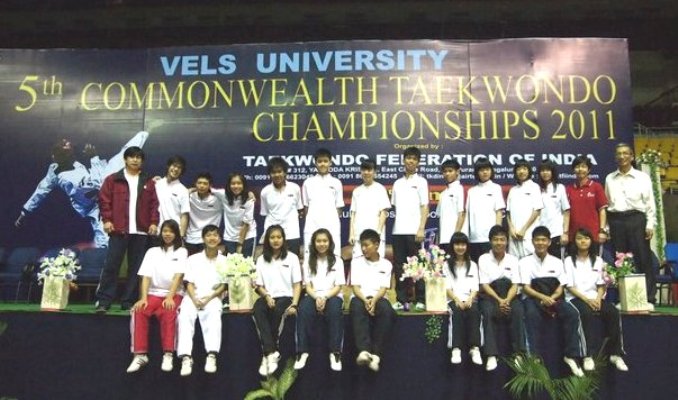 Singapore Team
Coaches : Tan Cheng Hui
                                           Wong Liang Ming
Players (Poomsae) : Samuel Lee Wei Kang
Sherman Wee Li Sheng
Kang Rui Jie
Joyce Lim Soon Yi
Chelsea Ann Sim Shu Zhen
Chiew Wenqi
Players (Kyorugi) : Jason Tan Junwei
Daryl Tan Jia Jun
Jordan Tay Jun Jie
Christopher Lee Jia Zhe
Daniele Aidan Haadi Tan
Keith Ong Jin Cong
Muhammad Norhalim Bin Zahruddin
Chua Juan Juan
Nurul Shafinas Bte Abdul Rahman
Denise Thong Bai Hui
Charlotte Tang Xue Ting
Jacqueline Quek Jie Lin
Tio Jia Xin
Tessa Tang Xue Yi