Singapore team returned from the 13th Asian Cities Gold Cup Taekwondo Championships held from 6 to 8 February 2009 in Hong Kong, China with 3 gold, 2 silver and 3 bronze medals and two overall 3rd runners-up trophies for Senior Male and Junior Male Divisions.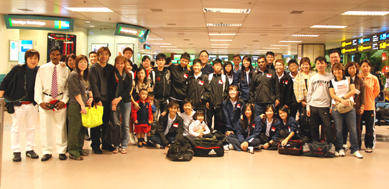 Our three gold medals came from Jason Tan, Jordan Tay and Wesley Ong.
Jason was simply brilliant. Competing in his first international competition as a senior player, he demolished his opponents with his blinding kicks which almost never fail to find their marks. He controlled his four matches well to become a well-deserved winner.
Sharing the limelight with Jason were his team mates Jordan and Wesley. Both Jason and Wesley had to fight stronger, taller and more experienced players. Despite their disadvantages, they showed guts and determination to take the titles by beating three players each in hard fought battles. They had to dig deep in their bags of tactical tricks to foil their opponents' plan.
The other medal winners were
Keith Ong (Silver)
Tessa Tang (Silver)
Ong Tian Ling (Bronze)
Goh Jun Jie (Bronze)
Jacqueline Quek (Bronze)
Said Coach Wong Liang Ming: "I am happy with the results. But what made me happier was the tremendous team spirit displayed by everyone, including the accompanying family members."
Singapore Team
Team Manager : RA Jeyaraman
Coach : Wong Liang Ming

Players (Male) : Jason Tan Junwei (Captain)
Benjamin Teo Zhe Ming
Muthiah s/o Ponmani
Woon Yong Chuang
Keith Ong Jin Cong
Wesley Ong Zhi Qiang
Goh Jun Jie
Jordan Tay Jun Jie

Players (Female) : Ong Tian Ling
Denise Thong Bai Hui
Tio Jia Xin
Geraldine Quek Jie Yi
Tessa Tang Xue Yi
Jacqueline Quek Jie Lin
Accompanying
Family Members : Mr Roland Ong
Mrs Janet Ong
Mrs Katherine Tay
Mr Dicky Ong
Mrs Christine Ong
Mdm Tan Ger Hwee
Mr Tio Tian Haur
'Mascot' : Kaylar Ong
(Please visit the Gallery for more photographs.  Photographs courtesy of Mr Dicky Ong.)