In the first two days of the 34th National Pesta Sukan Taekwondo Championships held on 11 and 12 August 2007 at Yishun Sports Hall, the Chew family collected 3 gold medals through Kai Jun, Xin Wei and Xin Yi. While Kai Jun captured the Young Junior Poom (Boys) Fly Weight title, his sisters netted the Young Junior Poom (Girls) Fin and Fly Weights crowns.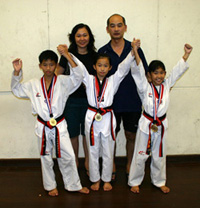 It was also a family affair for coaches Jeffery Lim and May Cheong. Their son, Kenneth Lim Wei Jun fought gallantly in the Young Junior Category. His puny frame belied the determination, courage and fire in him.   For showing off his steely mettle, he won for himself the fighting spirit award from the Singapore Taekwondo Federation (STF) and a loving hug from his parents.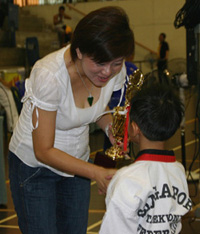 Talking about family, the STF was glad that the event brought together many families. It was heartening to see so many parents giving their children not only their personal attention but also their vocal support.
While some parents could be seen giving pep talks to their children, others were wiping perspiration off their kids' foreheads with tender loving care. But when their children were in the ring, they just shouted themselves hoarse.
Their encouragement was a morale booster which had resulted in outstanding performances from their children. That also made the competition keener and the standard higher. The parents certainly deserved kudos for their involvements.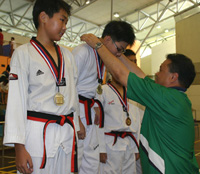 As there can be only one winner per category, the two day competition produced 16 champions.
The detailed results will be released at the end of the championships which will continue on 25 and 26 August 2007 at the same venue. Admission is free and all are welcome.