The 1st Demonstration Tournament held on 15 December 2012 was successfully and safely conducted.
It was a success because the competition provided the best environment for the participants to showcase their skills. What's more, the event ran like clockwork and it gave the spectators a lot to cheer for. The camaraderie among the participants was simply fantastic.
More importantly, the competition was safe.  The medical team present had no work and they spent their time enjoying the show which produced many record holders.  Among them, was Baek Moo Jin (Ildo Taekwondo) who broke twenty concrete slabs with his fist and sliced fifteen slabs with his knife-hand.  It made him the strongest in the competition.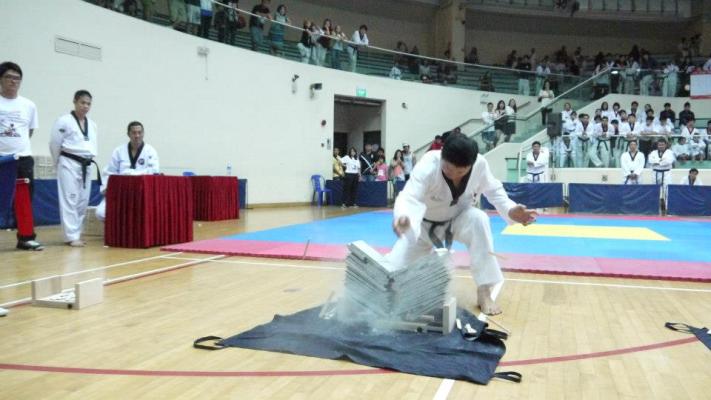 Setting the record for kicking the highest was Lee Kin Wee (NTU).  He jumped and broke, with his foot, a plank placed 2.64m high to beat Song Jeong Ho (Top Taekwondo) who had earlier won the Senior (Male) title for going the furthest with his flying side kick.
However, if there was any award for creating the most excitement in the competition, it had to go to Sebastian Ng (St Teresa TKD) and Ethan Winston Sum (Acme TKD),  They put the crowd on tenterhooks while they tried to outdo each other in the Young Junior (Male) high kick contest.  When Ethan finally faltered, Sebastian went one higher for the crown.

The tournament ended with all participants looking forward to next year's competition which tested their speed, power and creativity.
The results are attached.