The 2nd People's Association-Singapore Taekwondo Federation Taekwondo Championships held on 12 and 13 July 2008 at Yishun Sports Hall saw Tampines North CC, Yio Chu Kang CC and Aljunied CC fighting tooth and nail for the title.
The tournament was open only to taekwondo members of CCs recognised by the STF.
The three CCs outshone the rest in terms of not only the number of players fielded for the competition but also the number of quality players in their teams. While the other teams had a couple of good players, the top three CCs had a lot of players who had the potential of making mincemeat out of their opponents.True to form, Tampines took the overall title with 8 gold, 6 silver and 5 bronze medals to narrowly edge Yio Chu Kang CC which collected 7 gold, 2 silver and 3 bronze medals. Aljunied CC finished third with 6 gold, 2 silver and 4 bronze medals followed by Tampines East CC (4 gold, 1 silver and 1 bronze medals) and Moulmein CSC (3 gold, 4 silver and 11 bronze medals).
The organizers were glad that the event graced by Mr Teo Ser Luck, Senior Parliamentary Secretary, Ministry of Community Development, Youth and Sports and Ministry of Transport, was conducted smoothly and fairly. The event went very well without any hitch or protest. What's more, the event attracted a participation of 532 players from 44 clubs. It also drew a good crowd throughout the competition.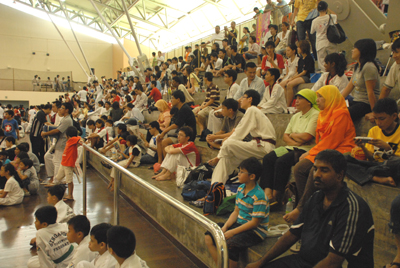 More importantly, the event provided opportunities for community bonding. The competition format required each poomsae team to have performers from at least two ethnic groups. There was also a good mix of participants and spectators from the various communities.
In short, the championships had all the ingredients of a successful event.