The Singapore Open Taekwondo Championships promise to be an exciting and memorable event for all – taekwondo and non-taekwondo practitioners.  Scheduled to be held from 6 to 8 July 2007 at Singapore Expo, it will not be just another competition.  There are lots of fringe activities aimed at securing maximum public participation. 
Having to live up to the event theme, a weekend of fun for a life time of healthy living, the organizers will be putting in place activities like seminars, public lectures, workshops and exhibitions that cater to the varied sports and fitness interest. There will also be activities for participants to experience the thrills of taekwondo.
What's more, the organizers will arrange for the World's best demonstrators to showcase their dazzling skills and high-flying stunts during the event.  The renowned performers have put spectators everywhere on the edge of their seats and will do the same in Singapore.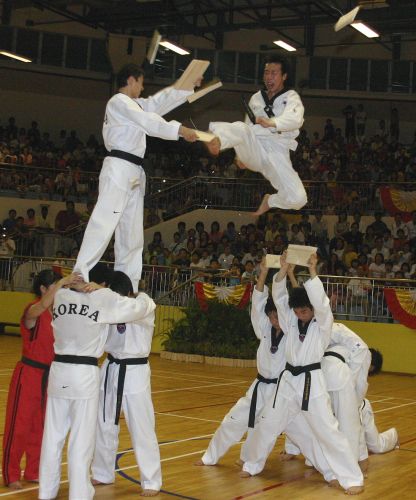 For the competition, top taekwondo nations including Korea, Chinese Taipei, China and USA will be invited. These are the countries which have produced the best exponents in the sport. Their awesome fighting styles, tactics and techniques will be a visual treat.
The Singapore Open, organized jointly by the Singapore Taekwondo Federation, Globerwerks International and Singapore Expo Pte Ltd, is an event which you must not miss.
For more information, please visit the Singapore Open website at www.tkd07.com. You are encouraged to do so as there are attractive prizes to be won.