Acme, Assisi and Aljunied finished top three in the 1st National Taekwondo Poomsae Championships held on 17 June 2007 at Toa Payoh Sports Hall.
The tournament attracted 350 participants from 38 clubs.
Acme TKD collected 12 first placings followed by Assisi Hospice Taekwondo Team with 5 and Aljunied CC with 4. While Acme and Aljunied were familiar names at the top of the table in almost every tournament organized by the Singapore Taekwondo Federation, Assisi surprised everyone in its maiden competition.
For the tournament, the seven-judge system was adopted to provide a fairer evaluation of the performances. All the competitors did well under the close scrutiny of the judges. But only a few managed to impress the judges enough to score higher than 8 points out of a possible of 10. Among them were Diana Inshera Lim and Soh Hong Ray. Both represented Assisi.
After scoring more than 8 points for their individual performances, they joined forces to register 8.18 points in the mixed pair category. With two titles and the highest scores under their belts, they were jointly named for the 'Best Performer' award.
One of the judges, Ng Lee Noi, commented: "They did not require any sympathy from the judges. They were good and won on their own merits."
Speaking with STF President, Coach Brian Peh said: "I was surprised. How they achieved such high standards in such a short time? Their discipline and presentation displayed both by the Assisi coach and competitors were also outstanding."
Assisi also took home the Fighting Spirit Award through Toh Shi Xiang who was a clear winner of the title.
Her citation reads: "Toh Shi Xiang has shown remarkable enthusiasm, courage and resilience to not only participate in the sport but also in this competition. She took up taekwondo about six months ago at Assisi Hospice which introduced the programme as a form of therapy for children with cancer. It was difficult for her but she persevered in the true spirit of the sport and was promoted to yellow belt after 3 months of training.
For the competition, she trained regularly and rigorously just like other athletes. In one training session, she felt weak and unsteady after pushing herself too hard. Instead of calling it quit for the day, she continued training after a short rest. That was not all.
Six days ago, she was hospitalized. She pleaded with the doctor to discharge her because she did not want to miss the competition today. She was allowed to leave only yesterday. Although she was still physically weak, she gallantly went through the routine with all the effort she could garner.
She did not win the top spot. She finished second but she won our admiration for her determination, courage and spiritual strength. She is indeed a worthy winner of the Fighting Spirit Award and an inspiration to us all."
Liang Seng Sports Equipment Pte Ltd, the Federation's official supplier, provided the icing on the Assisi's cake. It presented Assisi Hospice with the Outstanding Achievement Award in recognition of the spectacular achievement of its taekwondo members, more popularly known as Taekwondo Warriors.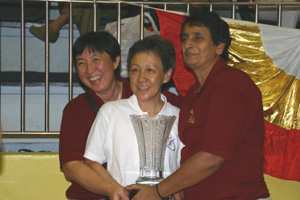 Louis Koh, the father of two poom belt participants who finished first in the team event, said: "I am sure the other children can learn a thing or two from the dedication and resilience displayed by the Assisi kids. My children did."
Please visit our Gallery for more images.