On 3 November 2006, more than 1,500 students and their teachers from Catholic High School gathered at the school hall to witness a taekwondo demonstration.  They greeted the visitors from Gwangjingu Taekwondo Association with thunderous applause.   
The warm welcome seemed to have inspired the 60 young Korean demonstrators who took to the stage to show of their skills.  Each performance drew oohs, aahs and a lot of excited cheers from the crowd.
Mr Park Chang-sik, the head of team, was visibly pleased with his charges.  With each successful item, he smiled, nodded and clapped.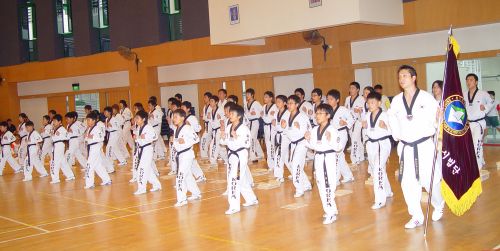 For the students and teachers, it was a visual treat.  They found the performance unbelievable, fantastic and awesome.  These were the words used by them to describe their feelings of the demonstration.
The half-hour demonstration ended with an exchange of gifts between Mr. Park and Mdm Chua Puay Eng, the Head of Department (Chinese).
Mr Milan Kwee, President of the Singapore Taekwondo Federation, hosted a dinner for the team officials on 5 November before they left for home.