The last in the series of poomsae courses was successfully conducted on 11 November 2006. 31 participants attended the course.
A few qualified coaches from the other courses joined them to reinforce what they had already learned. Among them was Leong Yun Yuet. She showed why she was selected as the best trainee in her course. Her willingness to learn more was admirable.
She said: "I don't want to miss anything. I am glad that I come today as I have a clearer picture of a lot more of the poomsae movements."
"I appreciate what the course conductors are doing to upgrade the skills of coaches."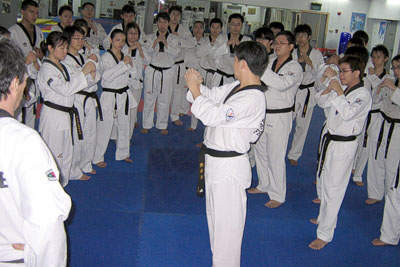 Sharing Yun Yuet's sentiments, Patricia Ong said: "I would like to thank the Federation and all the instructors.  They have sacrificed all their weekends just to ensure that we are well informed with the latest development of poomsae."
Like all good coaches would do, Patricia said that she would pass down the knowledge to her students and look forward to further upgrade herself.
As usual, it was difficult for the course conductors to select the best trainees. After some deliberations, they gave the awards to Jeremy Poh Boon Chai and Tan Wan Ting.