Said Michelle Wong, one of the participants in the Grading Preparation Workshop: "It was useful to know that is expected by the examiners. Now I have 3 weeks to prepare for the grading conscientiously."
Like her, all the 65 participants in the Workshop held on 13 September 2009 at Bt Merah Community Club found the workshop enlightening.  Most importantly, they could ask seek clarifications from Mr Chin Khee Shin, Mr RA Jeyaraman and Mr Tan Cheng Hui –  all senior examiners – and Mr Ng Hwa Ann (Grading Chairman and Examiner) and Mr Peter Lim (Grading Vice-Chairman).
Participants were informed of what the examiners wanted to see in their performances. They were also learned about the differences between major and minor mistakes for poomsae.
Tips were also provided on how to prepare for the grading and what they could expect from their coaches.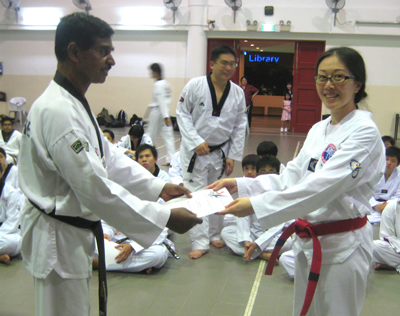 All participants were presented their participation certificates at the end of the workshop.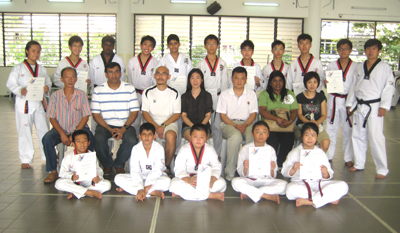 Coaches are reminded to submit a copy of their participation certificate together with their grading application form.  For junior red 1 to 1st poom and 1st poom to 2nd poom candidates, please attach a copy of the certificate to the grading card.