"It is an eye-opener," said Mohd Adnan Abdullah, one of the participants in the Coach Induction Course held on Sunday 8 February 2009 at the National Training Centre.
He added: "I realize that there is more to just sharing of skills in coaching. There is so much responsibility. As coaches, we represent our clubs, our sport and the Singapore Taekwondo Federation. We have to be a credit."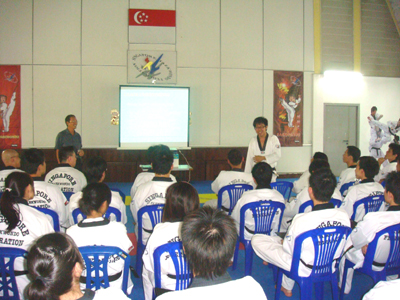 42 coaches attended the course. And they learned, among other things, that the best legacy a coach could leave was the life lessons he or she taught his or her students. Was it easy? They knew from case study that it was a challenge when their job and popularity were at stake. But they also knew the direction that they should take if they wanted to impart the right values.
It is now up to the following who attended the course to decide if they dare to take up the professional pass which is a symbol of their willingness to undertake the full obligations of a coach.
Yong Thim Ting
Goh Aik Leng
Tan Hai Kheng Lawrence
Bong Peng Luck
Lee Thiam Poh
Lee Thiam Huat
Derrick Tan Jing Yang
Shaidatul N A
Ernest Lim Jia Yi
Kong Sin Yu
Tan Jun Wen
Chua Jun Xian
Lor Keli
Charlotte Tang Xue Ting
Ananurmelati Bte Abdul Rahman
Nur Raidah Bte Azman
Siah Geok Teng
Mohd Adnan Abdullah
Ang Soon Chuah
Lim San Chang
Low Zi Ping Melvin
Yik Jia Hwee
Kingston Mok You Hong
Low Jun Jie
Low Kai Wen
Ang Qin Ying Cindy
Ang Jun Ming Anthony
Lee Kar Churn Eddie
Eleutherius Liew
Li Derong Eric
Aaron Tan Zheng Kai
Lee Zhen Chong
Igen Tan Yi Sheng
Ng Jia Hao
Yee Jun Wen
Linus Tay Ming Yan
Mark Tay Mu Ming
Darwin Goh Ying Shi
Lim Ze Hong
Yip Hin Hoe
Tan Zhi Yuan
Fong Wen Kiat
(Photographs courtesy of Mr Goh Aik Leng.)