17 participants in the grading preparation workshop conducted on Sunday 9 December 2007 at the National Training Centre found it enriching, rewarding and enjoyable. In fact, some of them felt that the workshop was too short.
Said Tan Lai Koon: "The workshop is a bit too short. If there is more time, we can learn more."
But Gay Jian Xian was satisfied. He said: "I am glad that I attended the workshop as I had learned quite a lot of things."
Added Peter Lim: "I made the right decision to attend the workshop despite having to travel a long way to get here.   It allowed me to fine-tune some of my weaker techniques and gave me the confidence to take my grading. Otherwise, I will be going for my grading blindly without knowing what to expect.
Not every one of the participants was there to prepare for their grading. Some of them were responsible coaches who were there to acquire the latest knowledge and skills to remain effective and relevant.
Leong Yun Yuet, who has been teaching for at least 20 years, said: "I will not be taking my grading any time soon. But I am here to improve myself for my students. I can help them better if I keep abreast with the latest development.
"Well, the workshop is good for me. Besides learning from the course conductors, I took the opportunity to clarify some doubts. I am now more equipped to guide my students."
It was not surprising that the participants had benefited tremendously from the workshop as it was conducted by the taekwondo coaches who had an average of 30 years of experiences. They were Lim Teong Chin (Chairman, Board of Examiners), Steven Soh (Vice-Chairman, Board of Examiners), Chin Khee Shin (Senior Examiner), RA Jeyaraman (Senior Examiner), Tan Cheng Hui (Examiner) and Tan Kok Heng (Examiner).
To round off the workshop, participants were awarded a certificate of participation each for their effort.
Participants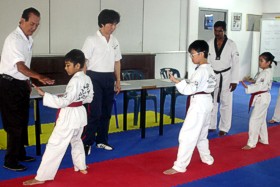 Brilliant Sports
Chan Dao Seong
Chang Siew Huah Judson
Tan Jimson
Tan Yong Quan
Cheng San CC
Loh Teng Heng
Jurong TKD
Kang Kim Joo
Jurong Town TKD
Ganesan s/o Sundaram
PAP Leng Kee
Leong Yun Yuet
Sportif TKD
Gay Jian Xin
St Teresa TKD
Lee Kar Churn Eddie
Team Spectrum
David Anthony
Low Jun Jie
Low Kai Wen
Ulu Pandan CC
Tan Lai Koon
Vosper TKD
Huang Zengcai Aaron
Woodlands TKD
Lim Jwan Ming Peter
Zenith TKD
Chia Jolyn