Polo Teo (Raiders TKD) and Girlene Tan (Zen Taekwondo) were among the participants at the Grading Preparation Workshop which was conducted on Saturday 27 November 2010 at the National Training Centre. They demonstrated the admirable learning spirit which many instructors and black belts would do well to emulate.
The workshop which attracted 54 participants were conducted by Singapore Taekwondo Federation examiners – namely, Mr Tan Kok Heng, Mr Michael Ho and Mr Tan Cheng Hui. They were assisted by Ms Joyce Lim and Mr Darwin Goh. Among other things, the participants were reminded to be mindful of their weaknesses and work towards reducing them with the help of their instructors.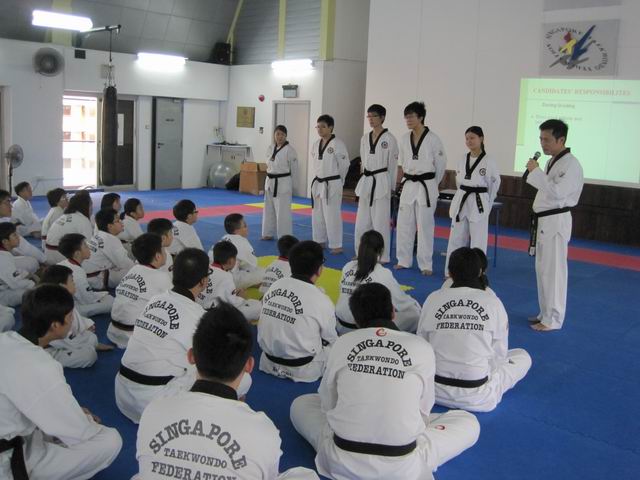 The following who attended the course received their certificates from Mr Ho at the end of the session.
| | |
| --- | --- |
| 1 | Tan Heng Guan Nicholas |
| 2 | Tan Pei Shi Joline |
| 3 | Tan Pei Ting Jasmin |
| 4 | Chong Kai Qing Clarissa |
| 5 | Rawat Samaksh |
| 6 | Tan Mei Yu |
| 7 | Tan See Kiang Nicholas |
| 8 | Ang Cantona |
| 9 | Choo Yu Xian |
| 10 | Seah Cherlyn |
| 11 | Chua Chen Kang Aloysius |
| 12 | Liang Lai Hup Sonny |
| 13 | Tan Sheng Zhe |
| 14 | Chan Weikang |
| 15 | Rene Ugaddan Ng Jr |
| 16 | Wee Yang Teck Jansen |
| 17 | S Harvind |
| 18 | Ayagari Srikari Sanjana |
| 19 | Chew Zheng Feng Gavin |
| 20 | Dominic Goana |
| 21 | Laow Lou Pin Eileen |
| 22 | Md Shaifulbahri Bin Rahmad |
| 23 | Michelle Goana |
| 24 | Muhammad Mirza Bin Razak |
| 25 | Ng Shi Xiang Jared |
| 26 | Tan Su Kiat |
| 27 | Tan Teck Hean |
| 28 | Polo Teo Ghim Hock |
| 29 | Lee Li Er |
| 30 | Lim Jia Ming Alvin |
| 31 | Alexander James Fonseca |
| 32 | Aloysius Nicholas |
| 33 | Alphaeus Nicholas |
| 34 | Cheah Zheng Hong Jerome |
| 35 | Hoo Tian Yee Ivan |
| 36 | Keoni Sean Foo |
| 37 | Ng Aik Siong Ellson |
| 38 | Oh Jing Yi Gracia |
| 39 | Oh Xin Yi Joey |
| 40 | Jatinder Singh Kler |
| 41 | Ng Kioh Yee Joan |
| 42 | Tan Pin Qian |
| 43 | Boo Shao Wei |
| 44 | Chew Ern Zi |
| 45 | Heather Tamara Lowe Yin Yi |
| 46 | Kang Hui Min |
| 47 | Kew Ying Heng |
| 48 | Ng Jun Hao |
| 49 | Koh Gerald |
| 50 | Koh Gerick |
| 51 | Tan Lee Fong Girlene |
| 52 | Wan Kah Wor Marcus |
| 53 | Yap Teng Chiong |
| 54 | Yap Teng Chung |