The last batch of 37 poomsae coaches attended the Poomsae Refresher Course on 26 January 2008 at National Training Centre. The total number of coaches, who had gone through the refresher course, stood at 121.
Being last was not so bad for some. It gave them the advantage of being prepared.
Some of them were evidently prepared for the course as they were not only aware of the changes but also able to perform them reasonably well. That spoke volumes of their interests. It also revealed the positive attitude of their seniors as they willing shared their knowledge with them.
Said Wong Liang Ming, Chairman of the Coaching Committee: "I am happy that the course had a successful run. Most of all, from the response to the course, I can take comfort that coaches from the Singapore Taekwondo Federation believe in upgrading themselves not only in words but deeds. I salute all of them."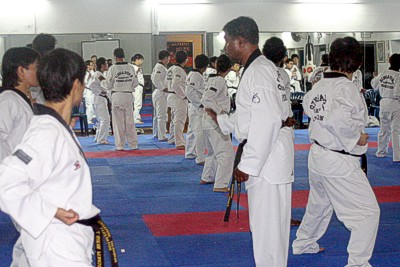 RA Jeyaraman, STF 2nd Vice President, added: "To me, their willingness to learn reflects their determination to be the best coach that they can be. This is good because taekwondo trainees deserve nothing but the best not those who teach out-of-date techniques.
The list of participants who attended the final course is attached.