…. they had a couple of moves to show. And they showed off their skills in a promotion test conducted for them on 8 March 2009 at the National Training Centre.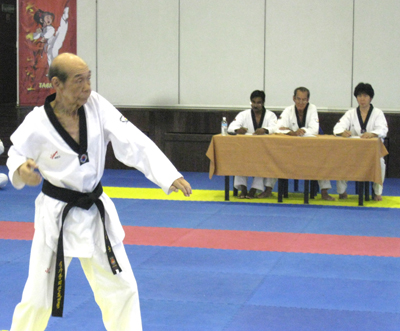 After 11 months of training, 13 members from the TEAMgOLD participated in the grading.   They sportingly subjected them to the judgment of a panel of senior examiners comprising Chin Khee Shin, Steven Soh and RA Jeyaraman. For all the candidates, the last time they took their grading was more than 30 years ago.
They might be not so young but they still had some mean kicks and punches in them. They might be a bit 'rusty' but they made it up with their determination and enthusiasm. All of them demonstrated that they could adapt to the changes to the movements over the years.
Performing three standard poomsae and other grading requirements, the candidates certainly impressed the judges and others present including Mr Milan Kwee, President of the Singapore Taekwondo Federation, with their energy, enthusiasm and dynamism.
The following passed their tests:

1st to 2nd Dan
Bong Peng Luck
Han Hew Juan
Lim Meng Tong
Ronald Lim
Jeffrey Koh
Tan Boon Hock
Linda Sim
2nd to 3rd Dan
Michael Tan
Christopher Ong
3rd to 4th Dan*
William Lai
Yan Fook Churn
4th to 5th Dan*
*subject to passing the theory test
Kudos to all the successful candidates for showing all of us that age is only a number. Most importantly, thank you for demonstrating that taekwondo can be a lifelong sport and a choice for healthy lifestyle for the senior citizens.