Our 'warriors' collect 1 gold, 4 silver and 3 bronze medals to finish 4th in the multi-sport Danga Bay International Games
The taekwondo event, which was staged from 5 to 9 April 2006 at Pasir Gudang, Johor, Malaysia, attracted 12 teams.
The medals winners were
– Cornelyus Ng (Gold)
– Nicholas Lau (Silver)
– Saw Teng Sheng (Silver)
– Nur Zulaikha (Silver)
– Dawn Ang (Silver)
– Jason Ong (Bronze)
– Lanetar Quek (Bronze)
– Ed-Millia Ong (Bronze)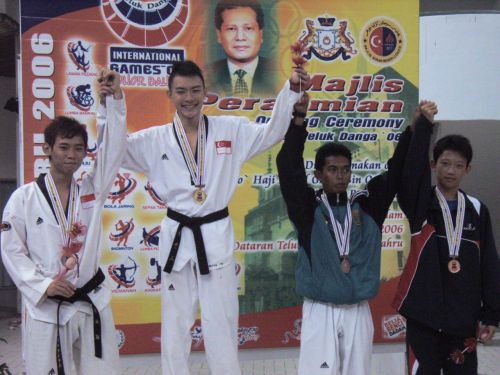 STF President Milan Kwee, who was happy with the results, congratulated the team on the fine performance.  He urged them to continue training hard and bring honour to Singapore.
Singapore Flagbearers
| | |
| --- | --- |
| Team Manager | Tan Kok Heng |
| Coach | Wong Liang Ming |
| Trainers | Poh Tze Chap |
| | Vincent Chua |
| | Ong Tian Ling |
| | |
| Players (Male) | Cornelyus Ng |
| | Nicholas Lau |
| | Jason Ong |
| | Saw Teng Sheng |
| | Low Chuan Kai |
| | Jonathan Phua |
| | |
| Players (Female) | Lanetar Quek |
| | Ananurmelati Bte Abdul Rahman |
| | Ed-Millia Ong |
| | Nur Zulaikha Bte Zakaria |
| | Dawn Ang |