Eighteen teams from six countries converged in Hong Kong for the 10th Asian Cities Gold Cup Taekwondo Championships.  The standards of the competition were elevated with the participation of top countries in the sport including Chinese Taipei and China.
Our team comprising 8 male and 5 female players acquitted themselves well despite the rigorous competition.  Their determination and guts saw them clinch two team awards – 4th runner-up (Female) and Best Fighting Spirit (Male).
On top of the team recognition, the players returned with 1 gold (Jason Ong), 2 silver (Lanetar Quek and Dawn Ang) and 2 bronze (Ong Tian Ling and Nur Zulaikha) medals.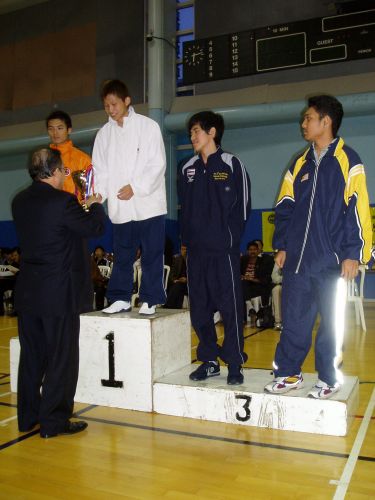 Asked to provide some highlights of our team's performance, Ng Lee Noi, the team manager, said: "Jason Ong was without doubt, the most outstanding player of the team. He grew better and stronger with each bout. He made his way to the final by eliminating players from China and Malaysia. His final bout against Hong Kong was nothing short of brilliant. He controlled the fight right from the beginning and eventually wrapped it up 9-3.
"Chuan Kai's performance was also interesting. He had no problem overcoming his opponent from China in the first match winning 7-4. In the next match, it was a closely contested affair with both players going for the kill. The match ended with 6 points each. It was a nail-biting sudden death round with the home crowd cheering for his Hong Kong opponent. Chuan Kai landed a perfectly timed counter kick but the point was awarded to the Hong Kong player instead. Chuan Kai was obviously robbed. As it was part and parcel of the game, we accepted the decision with grace."
All in all, it was a good outing for us.
Singapore Representatives
| | |
| --- | --- |
| Team Manager | Ng Lee Noi |
| Coach | Wong Liang Ming |
| Players (Male) | Cornelyus Ng |
| | Jason Ong |
| | Vincent Chua |
| | Low Chuan Kai |
| | Jonathan Phua |
| | Nicholas Lau |
| | Samuel Lee |
| | Saw Teng Shen |
| | |
| Players (Female) | Ong Tian Ling |
| | Lanetar Quek |
| | Dawn Ang |
| | Ananurmelati Bte Abdul Rahman |
| | Nur Zulaikha Bte Zakaria |