The Singapore National Taekwondo Team returned from the 16th Asian Cities Gold Taekwondo Championships staged in Kowloon Park Sports Centre, Hongkong on 6 February 2012 with a haul of 6 medals – 3 gold, 2 silver and 1 bronze.
The event held on 4 and 5 February saw 9 players from Singapore contending in the various weight categories.  The players led by Leon Koh (Team Manager and Coach) were Jordan Tay, Vincent Lim, Lim Choon Hon, Gan Guo Bin, Ng Ming Wei, Raja Zulfadli, Tio Jia Xin, Cheong Xuuen, Chew Kai Jun.
Arguably the best local female kyorugi player, Tio Jia Xin picked up the first gold medal for Singapore in the under 46kg (Junior Female) by beating an experienced Chinese Taipei player in the sudden death round. However, she did not require to dig deep into her bag of tricks in the run up to the final as she easily steamrolled them.
Our second and third gold medals came from Vincent Lim and Raja Zulfadli. Both of them had to work hard to eliminate their opponents. Vincent, pocketed the under 63kg (Senior Male) medal by beating his opponent in the sudden death round while Zul fought tooth and nail to earn his under 74kg (Senior Male) title although the score 13-7 did not reflect it.
The other medals came from the following:
Chew Kai Jun (Silver)
Jordan Tay (Silver)
Lim Choon Hon (Bronze)
In addition to the medals, the junior team received the Good Fighting Spirit Award and the senior male team captured the 3rd Overall runner up trophy.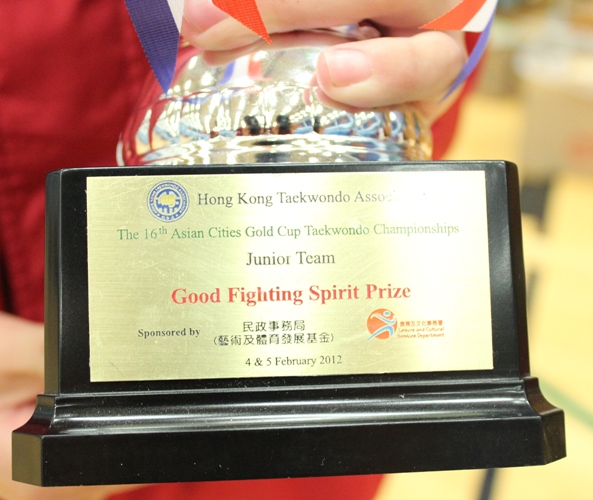 To the team: Well done!